On-Site at the 2011 CUES CEO/Executive Team Network
By: Randy Smith, Publisher/Managing Editor of CUinsight.com
The Credit Union Executives Society's CEO/Executive Team Network is taking place this year in Las Vegas, NV.  It is a busy few days that starts out fast and continues that pace the entire way through.  Sunday night's opening starts with the presentation of seven awards; five hall of fame inductees, an Outstanding Executive and a future leader. You can read about the recipients in the CU Management article "CUES Presents Seven Awards in Las Vegas".
Monday morning starts off with the naming of the Supplier of the Year.  This year's recipient was Hyland Software who received the honor for going above and beyond for the credit union movement.  After a general session on strategic planning the 2011-2012 CUES board officers were announced followed by the summit meetings.  The summit meetings separate the credit union executives into three groups based on asset size and allow for discussion and networking on current issues affecting their credit unions.
Monday afternoon is about the Next Top Credit Union Exec competition. The CEO/Executive Team Network starts by honoring credit union professional who have spent their careers dedicated to the credit union movement and then switches over to the young executives who are the future leaders of the movement.  The five finalists gave their presentation and took Q&A from a panel of judges.  You can see their presentation on www.NextTopCreditUnionExec.com.  Once you review the presentations make sure you vote today for who you think should win. Voting is only open until 8:00 PM eastern and the winner will be announced Wednesday morning.  And as we have witnessed from the 2010 competition doing well can be a career changing event.  Just ask Ronaldo Hardy.
Monday ended with breakout sessions on topics dealing with the ever changing financial services environment.  The focus was on looking forward at where leaders need to position their credit union to not only survive but excel.
This morning will start with what should be an interesting general session from John Moore, marketing mastermind from Starbucks and Whole Foods, before leading into the next round of breakout sessions.
Randy Smith is one of the founders and the publisher/managing editor of CUinsight.com. He can be reached at rsmith@cuinsight.com. Twitter: www.twitter.com/CUinsight Facebook: www.facebook.com/CUinsight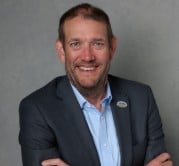 Randall Smith is the co-founder of CUInsight.com, the host of The CUInsight Experience podcast, and a bit of a wanderlust. As one of the co-founders of CUInsight.com he ...
Web: www.CUInsight.com
Details