On-site: Editor's Note: BAI Retail Delivery Conference & Not Just Trick or Treating
By: Randy Smith – Managing Editor, CUinsight.com
As many of you know I have attended many conferences over the past year.  The experience has been fantastic.  I've met great people who have a passion for the credit union community and it has been contagious.
The BAI Retail Delivery Conference was my first conference of the year that I would classify as not being purely credit union focused.  I observed a couple differences from the typical credit union gathering along with a key note from Oliver Stone, whose appearance I must say struck me as odd knowing his stance on the banking industry.
First was the difference in the exhibit hall.  I was amazed with the amount of business getting done.  I spoke with multiple credit union executives who where there looking for a specific solution.  One CIO from a large credit union on the west coast knew what he wanted but had been unable to find a vendor to provide it.  He was at BAI specifically for that reason, to find his solution.  As many of you who attend CU conferences know, the exhibit halls looks more like Halloween for adults with people running around with their bags grabbing trinkets to take back to the grandkids then a place to find solutions.
Second, I found the content of the breakout different.  An overused term, outside the box, comes to mind.  Presenters from Google, Facebook and many others were speaking on a wide array of topics from business strategy to brand awareness.  Successful process and good ideas are not exclusive to the credit union industry.  Bringing in more people to present different ideas on what works in their sector of the market and looking if we can apply it to our movement can't hurt.
The credit union community is full of very intelligent passionate people who want to advance the movement.  Due to the fact that credit unions are community based conferences play a major role in education, networking and finding solutions.  It's also a time we can get together and share ideas.  As with any conference I attend I look for a few actionable ideas that could be taken back to the credit union and implemented.  These ideas can come from anywhere.
At BAI business was getting done.  Solutions were found.  And ideas were flowing from Facebook, Oliver Stone and Google which have nothing to do with our industry.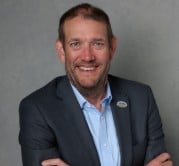 Randall Smith is the co-founder of CUInsight.com, the host of The CUInsight Experience podcast, and a bit of a wanderlust. As one of the co-founders of CUInsight.com he ...
Web: www.CUInsight.com
Details