Onsite: CUES CEO/Executive Team Network 2015 in Scottsdale, AZ
Opening night at the CUES CEO/Executive Team Network in Scottsdale, AZ was all about celebrating people who make the credit union movement great. CUES honored nine credit union executives with their top honors for 2015.
Gerry Agnes, CPA, CIE, president/CEO, $1.5 billion Elevations Credit Union, Boulder, CO, was named the CUES Outstanding Chief Executive. Don DiMatteo, director of member experience, $1.6 billion State Department Federal Credit Union, Alexandria, VA, was honored as the CUES Exceptional Leader.
The seven executives who were inducted into the CUES Hall of Fame are:
Garrick Throckmorton, Jimese Harkley, Danielle Buscher, Hayley Badeaux and Kris Wanner all did a fantastic job on their presention to be named the 2015 CUES Next Top Credit Union Exec. Every year the competition gets better I would guess it will be a tight vote this year. See who the winner is at nexttopcreditunionexec.com.
CUES also elected their 2015-2016 board officers during the annual business meeting. Joe Hearn, president and CEO of Dupaco Community Credit Union was named Board Chair. You can see a full list of the CUES Board of Directors here.
A highlight of the event for many was the Tuesday morning keynote, Brett King. Brett is the best selling author, futurist, and host of the "Breaking Banks" radio show. Brett's presentation "How Consumers Behavior and Technology is Changing the Future of Financial Services" had everyone on the edge on their seat and maybe even a little scared.
Mr. King discussed how rapidly the consumer's behavior is changing and what part technology is playing was eye opening for many in the room. Brett made it clear that the change in financial services is not about the future, it is happening now and credit unions must get started or they won't survive. Brett spoke of ways that credit unions can thrive in this new environment.
You can see more highlights of the event on Twitter at #CETNET and pictures on CUInsight's Instagram page.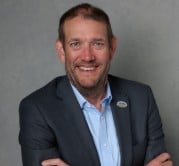 Randall Smith is the co-founder of CUInsight.com, the host of The CUInsight Experience podcast, and a bit of a wanderlust. As one of the co-founders of CUInsight.com he ...
Web: www.CUInsight.com
Details