"People helping People" Starts at Home
View Article on Credit Union Times
"People helping People" Starts at Home
By Randall Smith, Guest Blogger
I received an interesting email after GAC from a woman at a credit union in New York.  She asked a question that got me thinking of age old questions and commentary in the credit union movement.  Her question was:
"We all want to be "people helping people" so why not pull the community together and allow anyone that joins any credit union to be able to use any credit union anywhere. Banks do not consider other banks as part of their community and never will. I know the power of joining together would bring the banks to their knees and members would benefit greatly. Banks have branches all over because of their size, well we have many different credit unions everywhere so why not use our "credit union" community the same way."
The first thing that came to mind was a pet peeve of mine.  I had the opportunity last year to judge the CUES Golden Mirror Awards.  Part of the judging last year was giving feedback.  One of the questions on the application was to explain your market and competition.  The majority of answers to this question on competition in their market… another credit union.  We have all seen the market share numbers.  Are other credit unions really our competition?  Are community banks really our competition?  My guess is there's a Bank of America or Wells Fargo in the community that is truly our competition.  With the back lash toward banking in America over the last few years are we all missing an opportunity by focusing on the wrong "competitor"?  Are we afraid to collaborate with others in our community?  Why not work together as credit unions in the same market?  Is it fear of losing independence or as basic as sibling rivalry?
The second thought that popped in my head was the never ending discussion of a national branding campaign.  This discussion comes up every time you get a group of CU people together.  Is education to the general public a good idea on what a credit union is and how we differ from banks?  I think we can all agree it is.  I have the opportunity to travel a lot.  I have had countless discussions on planes with people about credit unions.  We all know the common misconceptions.  Break down the words Credit Union: Place for people with bad credit, in the north you have to be part of a labor union to join, in the south… well people just don't like the word union, I can't join, they're inconvenient, I have an auto loan through there.  And on and on the list of misconceptions goes.
So how do we spread the word?  I know we are all out there doing it every day on an individual basis both personally and through our credit union.  The people in this industry and the passion here is second to none.  Let's take a step away from the national level and stay in our communities.  Can we work with other credit unions to promote a common message?  Can we pool limited resources for marketing, financial education and so on to spread the word?  How can we expect a national campaign when we view the credit union down the road as our main competition?  Collaboration is always the buzz word in the movement.  What scares us?  What can we do to take advantage of the continued anti-bank opportunity?
More questions keep coming as I think about this.  Can we take the questions and turn them into action? At conferences such as the GAC the community comes together for a common goal.  The conversations flow.  Now that we're back in our communities how about reaching out to our fellow people in the CU movement and make things happen where we live and work.  Change the perception one community at a time.
Randy Smith is one of the founders and the publisher/managing editor of CUinsight.com. He can be reached at rsmith@cuinsight.com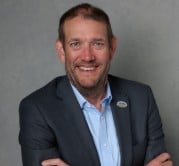 Randall Smith is the co-founder of CUInsight.com, the host of The CUInsight Experience podcast, and a bit of a wanderlust. As one of the co-founders of CUInsight.com he ...
Web: www.CUInsight.com
Details