Plan Now to Spread Your Credit Union Holiday Cheer
by: Michael Ogden, Media Relations Manager for New Media, CUNA Mutual Group
The holidays are less than four months away and September is the time to get your holiday social media ducks (or reindeer) in order. We've seen retailers already display winter and Christmas items as summer comes to a close. Heck, Halloween candy is probably already on sale!
There are steps your credit union can take right now to plan for some holiday social media marketing success.
Incorporate social media into your marketing: if you haven't done so already, use your credit union's social media platforms (Twitter, Pineterest, Facebook, etc…) as an extension of your marketing plans. Think of social media as an extra avenue to reach your members and potential members. Also, social media is already mobile-friendly and that allows you to promote your credit union's mobile financial options.
Offer exclusive items through social media: You have a built-in and very local audience with your members who are following you on social media. Take care of them and show some extra holiday love to those who are saying nice things about your CU. Surprise a member who posted something nice with a gift card to a local restaurant or grocery store. You'll be surprised just how vocal they'll be about the gift to their followers. And during the holidays, every little bit of extra spending money helps.
Emphasize your credit union's personality: The holidays are all about appreciation and giving back. Show your followers the holiday volunteer projects your staff is working on. Also, think about sharing pictures of your office party (no alcohol pictures please) so your followers can see just how fun and "jolly" it is at your credit union. Make that personal connection.
Keep the conversation going: People are typically very honest on social media platforms – and that's a good thing. Use any feedback (positive or negative) you receive from your social media holiday marketing to help guide the marketing plans for 2013. And again, show your appreciation to those making comments by sending them a little "thank you" gift.
One extra fun thing to do during the holidays on Twitter, Google+ or any social media platform is to jazz up your page and "decorate" it for the holidays. Your followers will appreciate it. Just make sure to take down the decorations after the holidays are over – don't leave them up until April like some of you do at home.
Merry August!
Michael
Michael Ogden is the Media Relations Manager for New Media at CUNA Mutual Group. You can connect with him on Twitter @CUNAMutualGroup or on Google+ at +CUNA Mutual Group. He's a left-handed man in a right-handed body.
CUNA Mutual Group, based in Madison, Wis., is a leading provider of financial services to credit unions, their members and customers worldwide. www.cunamutualgroup.com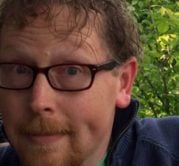 Michael has been in the social media business for more than a decade inside the credit union, technology, financial and food industries. He's the founder of For3, LLC, which ...
Web: www.for3forgood.com
Details