Predictive analytics for dramatic revenue lift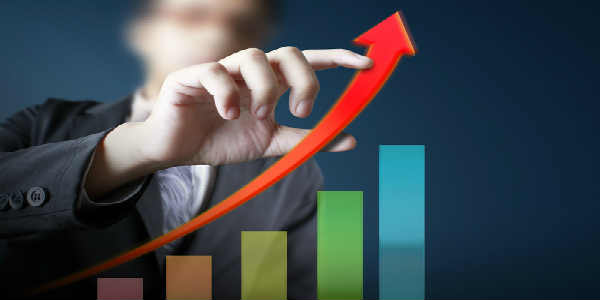 According to the Aberdeen Group, companies using predictive analytics enjoyed a 73% higher lift in revenue than companies that did not use this technology (1). Taking these statistics into consideration, there is a significant opportunity for credit unions to ignite revenue growth by applying predictive technologies to anticipate member behavior.  Thanks to web 2.0., the factors that influence a member's decisions are rapidly shifting.  Traditional marketing is now replaced with highly personalized messaging that is relevant and actionable to the member.
The executives I talk with on a daily basis have the same concerns:
How do I increase new membership?
How can I break through the clutter to engage a member? 
How can I stand out above all of the noise to drive both sales and loyalty?
How do I increase my profitable mix of my revenue?
The use of predictive analytics offers an edge to driving a better member experience and fueling sales growth by anticipating customer behavior and engaging on an individualized basis. In fact, our experience with predictive analytics has demonstrated a 34% lift in revenue over control groups.
By taking a predictive approach, marketers can dramatically improve their ability to anticipate member behavior at a very individualized basis. When properly deployed, credit unions are able to present the right product at the right time via the right channel, all based on what will best motivate the member to act.  This enables credit unions to capture the member's attention and trigger the desired behavior while also increasing the loyalty due to the content being relevant and personalized to the member.
The predictive solution is broken down into four parts that can work together to manage a fully engaged experience:
1)     Persona Development – builds personality based clusters (a grouping of similar profile characteristics)by appending CRM data and third-party information to predict a member's likelihood to respond to product offers. Member clusters are pre-identified for the right product mix suggestions.
2)     Predict the Right Personalized Approach – stimulates a member to take action by leveraging predictive algorithms that anticipate the right key marketing elements, such frequency, messaging, and media, resulting in dramatic conversion lifts and a better member experience.
3)     Product Conversion – removes the guesswork of contacting members by determining the best direct marketing and inbound call handling strategy. Conversion based routing and predictive analytics predicts the right call center agent to effectively convert an opportunity through the call center.
4)     Artificial Intelligence Engine to Continuously Learn and Optimize Outcomes- continuously monitors and learns from the data to determine what maximizes the return based on the result for each persona.
Persona Development with Predictive Lead Scoring and Attribute Matching
By appending CRM and publically available data, a member can now be segmented and scored according to defined attributes. Predictive personas can be tied into a credit union's existing membership information to predict which attributes will most likely result in a profitable event for the credit union and the member. The methodology can even predict the best financial product type that will entice a particular member to respond. By analyzing and personifying your membership, you can create a picture of the member profile. Your member engagement center can then better prioritize the events that are predicted to improve revenue, profit and member loyalty.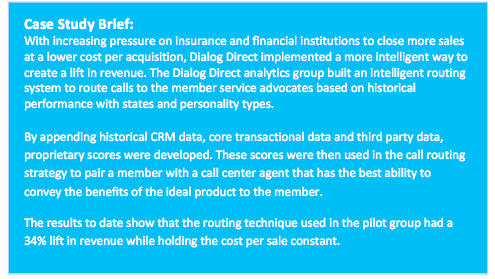 Predict the Right Personalized Approach
Strong growth, sales and member loyalty are often areas that a Chief Marketing Officer is tasked to measure and correlate with their campaigns.  With the abundance of member attributes and evolving channels available, how does a CMO optimize their marketing data to attract members and drive higher levels of performance?
New technologies that analyze behavior and predict the best way to engage are becoming the strategic differentiators of forward-thinking brands; often resulting in campaign ROI's that are significantly more effective than campaigns not utilizing predictive technology.
Demand creation through predictive member marketing empowers a credit union to turn member behavior into member intelligence that can be acted upon in real time.   This is done by dynamically customizing and personalizing key marketing elements of marketing pieces.   Predictive engagement technologies utilize anonymous environmental, behavioral, social and third party data, learning what variables are the most engaging for specific individuals or segments of your audience. The learning is ongoing and delivers optimized marketing content that will best engage a member to take action.  Through a historical analysis, a credit union can even predict a member's needs, allowing for effective cross-selling and up-selling opportunities customized to each individual member segment.
Product Conversion with Predictive Routing and Analytics in the Call Center
An easy to understand example is the use of predictive technology integrated into the call center. A credit union can now route a call to the best call center agent (conversion based routing) that has the highest probability of converting based on the common behavioral attributes. This allows for multiple attributes to be used including gender, location, product type, and CRM data.
One example of a common attribute that has proven success in our analytical studies is geographical location. By looking at the agent's historical conversion data by state, the agents can be clustered into geographical groups determined by the outcome of the calls.  This form of personality based routing caters to the preferences of the caller by routing the call to an agent that is more likely to relate to and speak like the caller (tone, language, accent, dialect).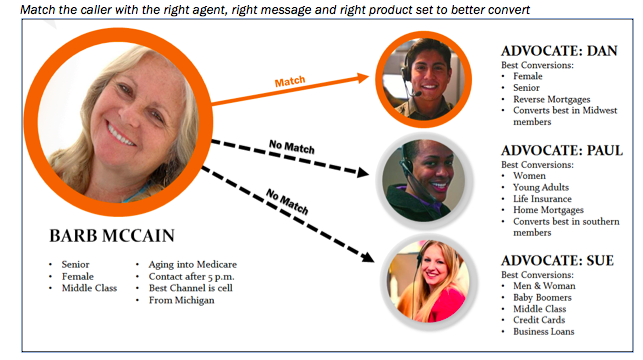 By capitalizing on the power of predictive analytics, a revenue lift of more than 34% is not uncommon (2). Success depends on numerous factors though, including the accuracy of the data that is used to train the model and the scale of the program that enables multiple paths.
Artificial Intelligence Engine to Continuously Learn and Optimize Outcomes
The greatest benefit of an artificial intelligence engine is the measurement of the control group to the overall responses.  The engine continually self-monitors and gets smarter to determine what maximizes the return based on the result for each persona.
About Dialog Direct
Dialog Direct a data-driven marketing solutions provider that helps businesses attract leads, increase sales, and inspire customers through personalized customer engagement and direct marketing solutions. With more than 5,000 team members across 12 locations, we offer a full range of sales and support driven services from direct marketing, creative, customer service and sales, inside sales, order fulfillment, ecommerce and data analytics to build lifelong customer relationships
To learn more visit: www.dialog-direct.com
Sources: 
(1) Kucera, Trip and White, David. "Divide & Conquer- Using Predictive Analytics to Segment, Target and Optimize Marketing." Aberdeen Group. Feb. 2012.
(2) Dialog Direct Case Study "Transform Data into Revenue", 2014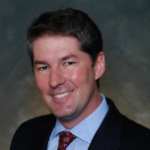 Peter Schmitt is chief strategy and innovation officer of Dialog Direct, an award-winning marketing and customer engagement provider. As a former Ernst & Young Entrepreneur of the Year award winner, ...
Web: www.dialog-direct.com
Details