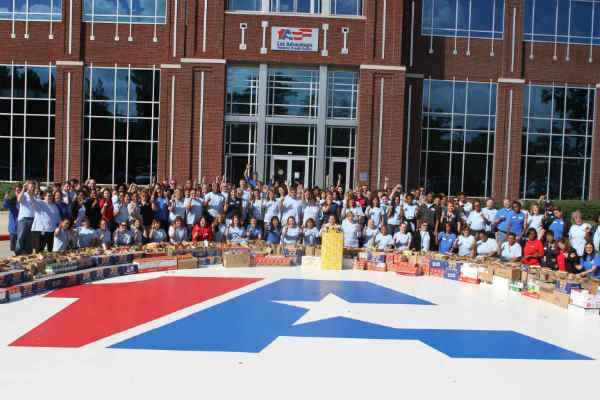 1st Advantage Federal Credit Union gives back to the local community
YORKTOWN, VA (October 21, 2013) — 1st Advantage FCU held its 6th Annual 1st A.I.D.E. Day on October  14, 2013. While most financial institutions were closed for the Columbus Day holiday, 1st Advantage colleagues were hard at work assisting local non-profit organizations.
Accomplishments:
Collected over 4,000 pounds of food for The Foodbank of the Virginia Peninsula.
Created 179 family meal bags for families in need.
Handmade 487 Holiday cards for veterans at the Hampton VA Hospital and the McGuire VA Hospital.
Made 127 Surgery Bears for the children who are patients at CHKD.
Made 25 blankets for the homeless and residents of the Malachi House.
Built 4 bookcases for Operation Homefront of The Virginias.
1st Advantage was thrilled to be able to work with six deserving organizations who offer incredible support in our local community.
About 1st Advantage Federal Credit Union
1st Advantage Federal Credit Union is a locally owned and operated credit union chartered in September, 1951 as Fort Eustis Federal Credit Union. 1A has approximately 60,000 members and operates 11 branches in Southeastern Virginia, with offices in Yorktown, Williamsburg, Newport News, Gloucester, Hampton and Richmond.  For more information about 1st Advantage and its products and services, please visit www.1stAdvantage.org.
---