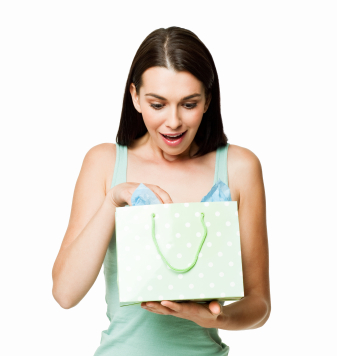 3 Ways Brand-Loyal Fans Can Learn How to Get Freebies from Their Favorite Companies, a New GoBankingRates.com Report
Big brands thrive on having loyal customers that keep coming back for more. To find out how consumers can use their allegiances to their financial advantage, personal finance website www.GoBankingRates.com investigates how to get freebies from top companies and uncovers three easy ways brand supporters can get free stuff and save money.
EL SEGUNDO, CA (May 28, 2013) Brands and big retailers have long relied on consumers' brand loyalty to boost their bottom line. However, Forbes reports that brand loyalty plays a small role for U.S. shoppers; only 25 percent of Americans use brand as a deciding factor in making a purchase, while that number rises significantly to 40 percent in other markets.
GoBankingRates, on the other hand, believes that consumers are still adamant about their favorite brands, but looking to have their loyalties reciprocated in the form of freebies and discounts. In fact, its latest report uncovers that in the recovering economy, frugal shoppers want to learn how to get freebies from their favorite companies. The findings of the investigation reveal three proven ways consumers can connect with their beloved brands while saving money on their favorite goods.
#1: Compliment Brands in a Public Space
Positive recognition is a great motivator for brands and companies. Loyalists can use the internet, especially social media networks, as a way to engage with their favorite brands and get freebies and deals.
"Many companies welcome praise from their customers and will reward kind words with free product or services," says editor of GoBankingRates, Jennifer Calonia. "I once wrote a sparkling Yelp review of my favorite day spa and received a personal message of gratitude from the spa's owner and a complimentary service worth $65 on my next visit."
#2: Just Ask
The article also reveals that, more often than not, getting free stuff from companies is as simple as asking for it. Tom Locke created a project called "The $39 Experiment," which involved writing unique messages to 100 companies asking for free stuff. The report found that a number of companies responded kindly to this approach with free swag, samples and coupons.
For questions about this guide or to speak with Jennifer Calonia, please use the contact information below.
About GoBankingRates.com
GoBankingRates.com is a national website dedicated to connecting readers with the best interest rates on financial services nationwide, as well as informative personal finance content, news and tools. GoBankingRates.com collects interest rate information from more than 4,000 U.S. banks and credit unions, making it the only online rates aggregator with the ability to provide the most comprehensive and authentic local interest rate information.
---