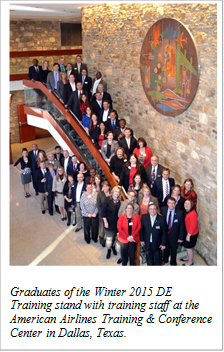 43 credit union professionals become Credit Union Development Educators (CUDEs)
MADISON, WI (January 23, 2015) — Forty-three credit union professionals became certified Credit Union Development Educators (CUDEs) this week after being guided by eight dedicated program facilitators and mentors through the intensive Credit Union Development Education (DE) Training from the National Credit Union Foundation (the Foundation). The Winter DE training was held January 14-21, 2015 at the American Airlines Training & Conference Center in Dallas, Texas.
After attending the Winter DE Training, Sean Hession, President/CEO of the Illinois Credit Union League, said, "The Foundation's DE Training is an immersive experience that connects credit union leaders to the true purpose of credit unions, which distinguishes us from all other financial institutions.DE training was one of the most intensely exhilarating weeks of my professional life. It was nothing I expected and more than I had hoped for."
Team Projects
DE Training provides critical lessons in cooperative principles, credit union philosophy and international development issues while incorporating challenges credit unions face today. During the recent week-long program, participants were involved in group exercises, field trips, discussions with speakers from around the credit union system, and are required to complete team projects proposing solutions for credit unions to help alleviate or eliminate challenging situations in any given area. For this class' final case studies, participants worked through and presented solutions to critical issues that included opening an Islamic banking center, board development and recruiting including the debate over compensation, credit union solutions to predatory lending, microfinance to women in Africa, the college conundrum of helping students understand and manage student loan debt, and a small credit union merger dilemma.
2015 Spring DE Training Registration Still Open
Registration is still open with few spots left for the next 2015 DE training program, which will take place April 29-May 6, 2015 in Madison, Wis. Registration for the training can be found on the Foundation website under "How We Help>DE Training> Register for Spring 2015 DE Training" at the top of every page.
The remaining DE Training of 2015 is set for September 9-16 at the Lowell Center in Madison, with registration opening soon.
Class Graduates
The Winter 2014 graduating class included credit union movement representatives from across the U.S., Gambia, Jamaica, and Trinidad and Tobago. The class graduates are: Craig Atkinson, Houston Highway CU in Texas; Joshua Atkinson, United Community CU in Texas; Martin Blackwood, Portland Co-Operative CU Ltd in Jamaica; Fritzy Brady, Premier Financial CU in Wisconsin; Angie Brotherton, Gesa CU in Washington; Maggie Camacho, Colorado CU in Colorado; Lynn Ciani, Numerica CU in Washington; Kristin Crellin, SchoolsFirst FCU in California; Michael Crowl, University FCU in Texas; David Dykes, Jr., First Family FCU in Oklahoma; Conrad Enill, Caribbean DE Program in Trinidad and Tobago; Ricardo Flores, SCE FCU in California; Marlo Foltz, Credit Union National Association (CUNA) in Wisconsin; Deli Frantzen, Trona Valley Community FCU in Wyoming; Walter Furnace, American Airlines FCU in Texas; Jon Gorman, Cornerstone Credit Union League in Texas; Scott Graffius, CUNA Mutual Group in Wisconsin; Brian Griffith, Gesa CU in Washington; Yasmin Grullon, GTE Financial in Florida; Dale Hansard, Caprock FCU in Texas; Kate Hardwick, Roswell Community FCU in NM; Karen Hart, Cornerstone Credit Union League in Texas; Sean Hession, Illinois Credit Union League in Illinois; Al Jones, Coastal FCU in North Carolina; Babou Joof, GTU Coop CU Ltd in Gambia; Johanna Keller, Telco Plus CU in Texas; Choua Ly, Partner Colorado CU in Colorado; Holly Markham, GTE Financial in Florida; Austin McCafferty, United Community CU in Texas; Shelli McCoy, Tarrant County CU in Texas; Giovanni Monterroso, Tinker FCU in Oklahoma; John Murphy, Telco Plus CU in Texas; Teresa Nicolas-Briggs, Houston Highway CU in Texas; Ken Olson, Old West FCU in Oregon; Lisa Pierick, CUNA in Wisconsin; Andy Rodriguez, Peoples Trust FCU in Texas; Trish Shomion, CU Association of the Dakotas in North Dakota; Randy Smith, CUInsight.com in South Carolina; Ranel Smith, Montana Credit Union Network in Montana; Lee Strickhouser, Resource One CU in Texas; Jo Beth Wicks, League of Southeastern CUs in Alabama; TJ Wyman, Coastal FCU in North Carolina; and Matthew Zumbrun, Tennessee Credit Union League in Tennessee.
---