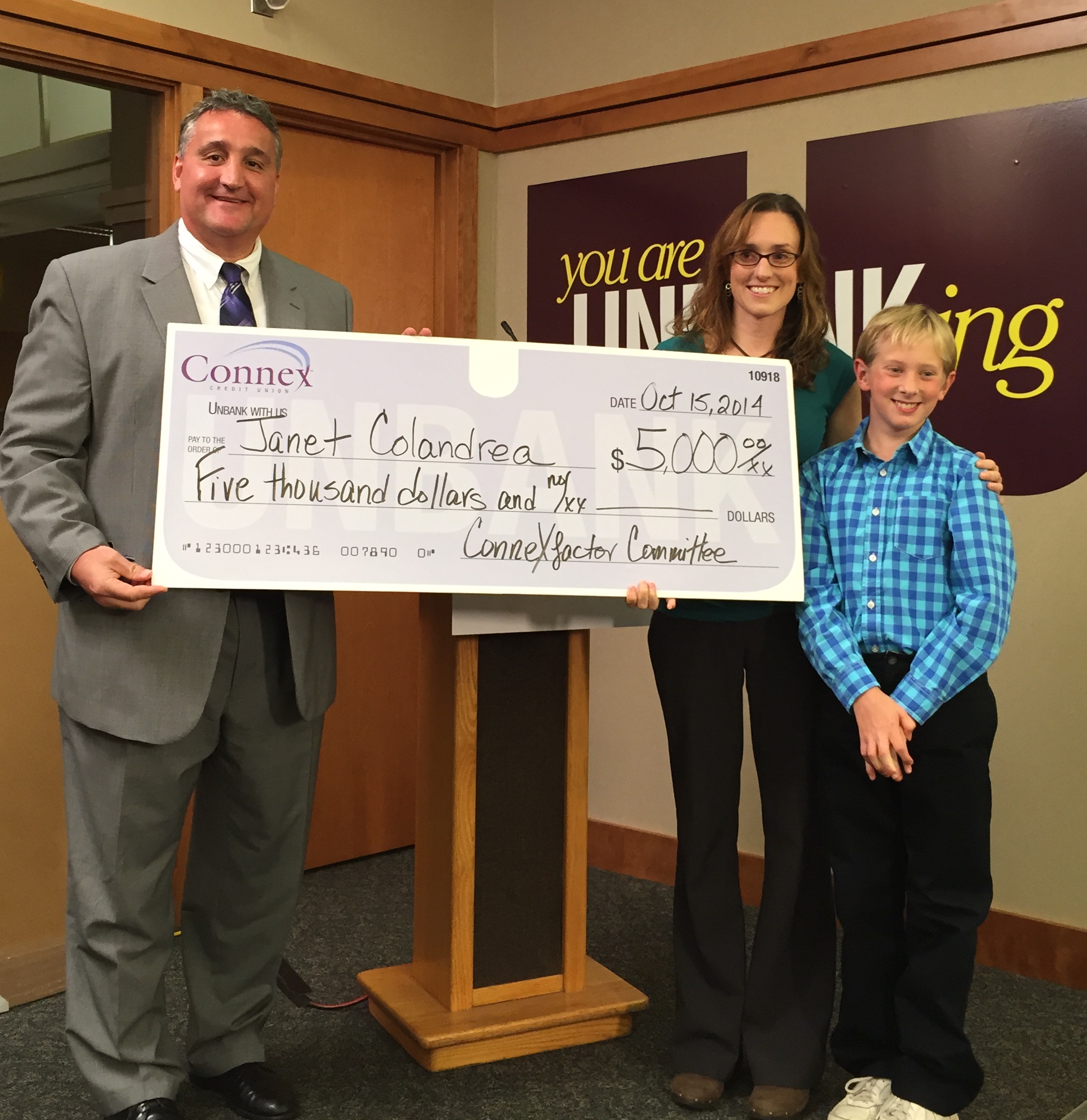 $5,000 Smarter: Guilford mom wins Connex Credit Union's "ConneXfactor" financial fitness competition
Contest helps participants become savvy with personal finances
NORTH HAVEN, CT (October 24, 2014) — Four Connecticut residents received a newfound financial "education" and various levels of prizes for their participation in a financial challenge. Connex Credit Union recently awarded Janet Colandrea, a Guilford resident and single mother, with the top prize of $5,000 for her participation in the ConneXfactor competition.
ConneXfactor is a contest where four Connex Credit Union members competed to see who can improve their financial situation by setting and meeting specific goals. Each participant was assigned a dedicated Financial Advocate or "coach" who provided financial tips and techniques to improve personal finances. Their successes were documented and closely monitored for the entire contest. A panel of judges reviewed each contestant's progress to determine the winners.
"I am ecstatic that we won," said Janet Colandrea "ConneXfactor really taught me how to be more thoughtful and wiser with my personal finances. Working together with Connex, I was able to stick to a new budget plan, prioritize my finances, and ultimately reduce debt and save for my son's college education. This contest was a life-changing opportunity that really helped put me in a better place."
Janet was presented with an oversized check for the grand prize of $5,000 at a recognition ceremony at Connex's branch in Orange, Connecticut. The first prize winner was Susan Oram from Wallingford who received $1,000, Robert Harris from Meriden took home second prize with $500 and Cristina Birdsall from Branford received third prize with $250.
Janet also added that her son Josh was also excited about the challenge and started his own savings plan to participate. "He really took an interest in the contest and wanted to help out any way he could. He set up his own savings goals and was able to save some money on his own with the guidance of Connex. I couldn't be happier for him."
"I congratulate Janet, and Josh, on a job well done," said Frank Mancini, CEO, Connex Credit Union. "I am very pleased that we were able to help each of the participating families in the competition. ConneXfactor is a prime example of our customer advocacy program and commitment to helping our members get to a better financial place. The biggest takeaway from the contest is each family now has a better understanding of their personal finances and this is something they will always utilize throughout life."
Connex Credit Union encourages all of its members and non-members to visit the Connex website for financial tools, savings tips and other financial resources at www.connexcu.org.  Financial Advocates are available in each branch to assist members in identifying and achieving their financial goals.
About Connex Credit Union:
As the Unbank, Connex Credit Union is one of Connecticut's largest credit unions serving more than 47,000 members at 7 branches throughout greater New Haven. Headquartered in North Haven, Connecticut, Connex is a full-service member-owned credit union that offers members a full-range of financial services and products, including savings and loans, Unbank Checking, Smart Score credit score range, free online and mobile banking and more. Membership is open to anyone who lives, works, attends school, or worships in New Haven, Hartford or Middlesex Counties. Connex Credit Union helps guide and improve members' financial lives through the Connex Advocacy Promises: We will always work in your best interest; we will work with you to understand your goals, identify your financial needs and provide solutions to improve your life; and we will be responsive to you and make your experience simpler, faster and friendlier. It's time to Unbank! For more information, please call 1-800-CR-UNION or visit connexcu.org.
PHOTO:
Connex Credit Union's CEO Frank Mancini presents Janet Colandrea, together with her son Josh, the top prize of $5,000 for winning the ConneXfactor financial fitness challenge. ConneXfactor is a contest where four Connex Credit Union members competed to see who can improve their financial situation by setting and meeting specific goals.
---