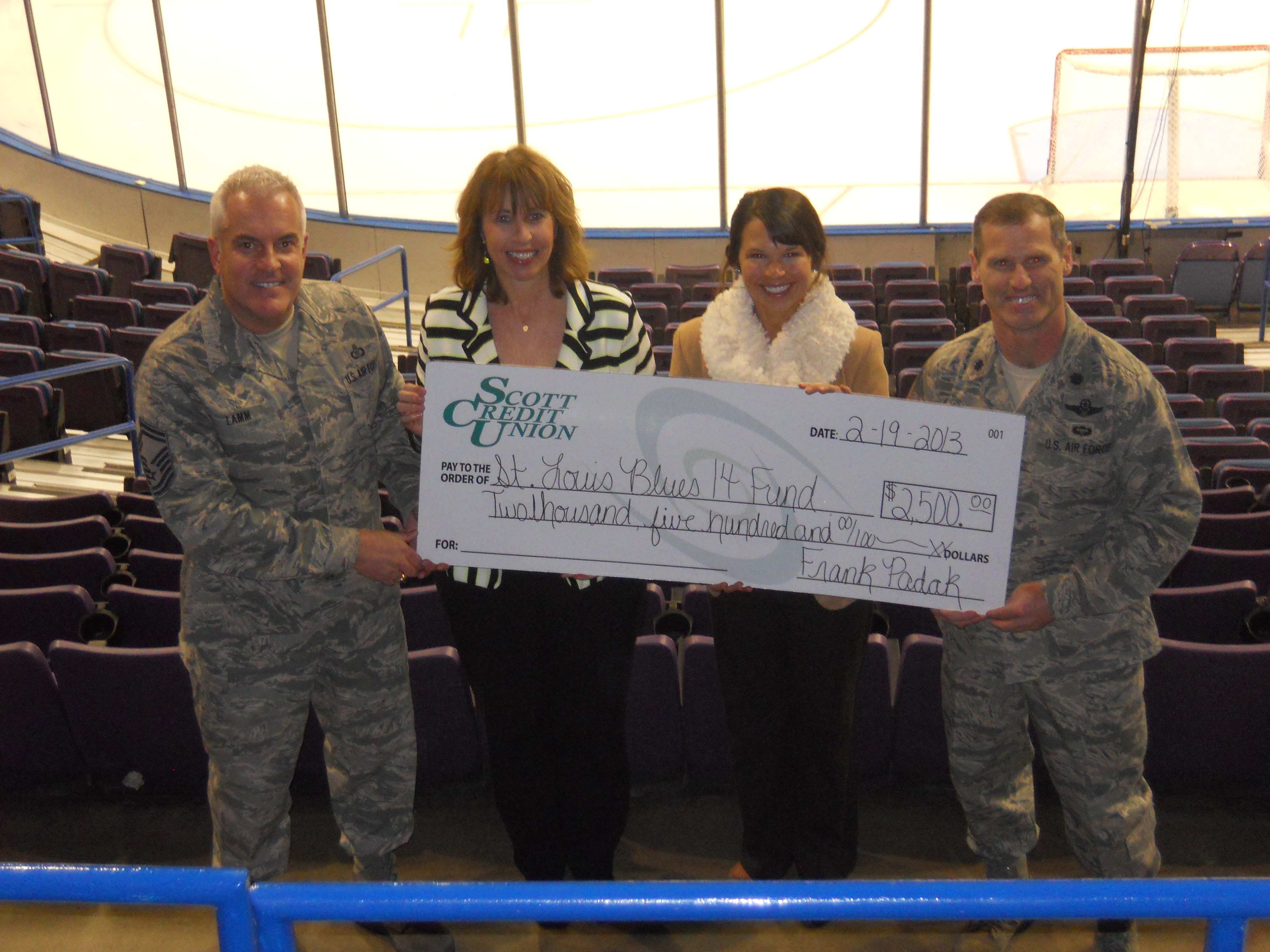 A Night Out With The Blues
126th Air Refueling Wing, Scott AFB, Ill.
Approximately 200 members of the 126th Air Refueling Wing, Scott Air Force Base, Ill., Illinois Air National Guard, attended the Feb. 19 Military Appreciation St. Louis Blues hockey game for free, thanks to the generosity of Scott Credit Union and the St. Louis Blues.
Scott Credit Union made an exclusive donation of $2,500 to the 126th ARW.  Along with that donation the St. Louis Blues made a matching contribution, which allowed more than 200 Wing members to attend the game for free.  In addition to their free ticket, attendees also received a free regular soda and hot dog.
"We realize the sacrifice that our service men and women make every day for all of us," said Scott Credit Union President & CEO Frank Padak. "We were very happy to be able to give something back. This is just a small token of Scott Credit Union's appreciation for what they do for us."
The entire game was set up for the military.  The 126th ARW's Honor Guard presented the colors before the game and during the game the Blues recognized all past and present military members from every branch.  Operation Homefront collected items for deployed service members at every entrance to the Scottrade Center throughout the evening.
"It was impressive to see all of the members of the military and their families recognized at the Blues game," said SCU Community Relations Representative Lauren Hoefert. "What a tribute to them and their commitment to our freedom and safety. It was an honor to be there for the military appreciate night."
Scott Credit Union is open to anyone who lives or works in a 17 county area, including Madison, St. Clair, Monroe, Randolph, Perry, Franklin, Jefferson, Washington, Clinton, Marion, Bond, Macoupin, Montgomery, Fayette, Effingham, Williamson, and Jackson counties. Anyone who lives or works in St. Louis County, Missouri also can open accounts at SCU. Additionally, anyone active or retired military also can have accounts with Scott Credit Union.
Scott Credit Union currently has 15 area locations: Scott Air Force Base, East Belleville, Fairview Heights, Collinsville, O'Fallon, Edwardsville, Waterloo, Highland, Caseyville, West Belleville, Millstadt, Mascoutah, Troy, Wood River and its Home Office in Edwardsville.
For details on opening accounts at Scott Credit Union, visit www.scu.org.
Scott Credit Union donated $2500 to the 126th ARW with the St. Louis Blues Hockey Team matching that contribution. Those donations made it possible for 200 members of the 126th ARW to attend the Blues game that night for free, as well as have a free soda and hot dog with every ticket.
---