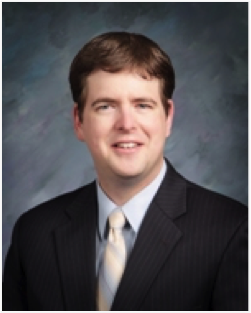 Advia Executive Vice President named one of Michigan's most valuable professionals
PARCHMENT, MI (April 23, 2015) — Jeff Fielder, Executive Vice President of Finance for Advia Credit Union, has been named one of Michigan's Most Valuable Professionals and Millennials by Corp! Magazine. Fielder was honored at a Corp! MVP Awards Celebration on April 23rd at the VisTaTech Center in Livonia.
Corp! is a business-to-business print and online publication created in 1998 to inform, intrigue, and entertain business owners and top level executives by providing features, news, best practices, and profiles throughout Michigan. According to Corp!, "These MVP professionals are making business happen in Michigan and hitting home runs for their companies and their communities."
"Jeff's professionalism, leadership traits, genuine kindness, commitment to our credit union and to the movement of our not-for-profit financial cooperative provides the benchmark of excellence for the entire team of Advia Credit Union," says Cheryl A. DeBoer, President & CEO of Advia Credit Union. "He truly represents and lives our credit union core values of driving progress, acting with integrity, building and strengthening relationships, and keeping people at the core."
Fielder oversees all accounting and finance responsibilities for Advia CU. In addition, he oversees the information technology infrastructure where he is leading the effort in adopting cutting-edge technologies such as high-quality digital and mobile channels that enable members to conveniently and remotely use banking services.
Fielder joined the credit union in 2007 as an Internal Auditor and was promoted to his current position as EVP of Finance in 2014. Throughout his tenure he has provided outstanding leadership and commitment during a time of great transition and growth, having successfully navigated the credit union through four merger partnerships from 2010 to 2014. Advia Credit Union's growth now provides membership opportunity to the entire lower peninsula of Michigan and various counties within Wisconsin and Illinois.
Fielder holds a Bachelor of Business Administration in Accountancy and has certifications as a Certified Internal Auditor (CIA), Certified Information Systems Auditor (CISA), Certified Fraud Examiner (CFE), Certified Management Accountant (CMA), and Certified Financial Services Auditor (CFSA). He is currently pursuing his Masters in Security Analysis and Portfolio Management from Creighton University.
About Advia Credit Union
Advia Credit Union is growing with nearly 120,000 members and over $1 billion in assets. Operating for over 75 years, Advia features a convenient network of 24 full-service branch locations and 30,000 Surcharge Free Co-Op ATMs. Headquartered in Parchment, MI, Advia specializes in providing personalized innovative financial advantages, including digital and mobile platforms, to its community of members in Michigan's lower peninsula and in parts of Illinois and Wisconsin. Learn more about Advia online at www.adviacu.org.
---