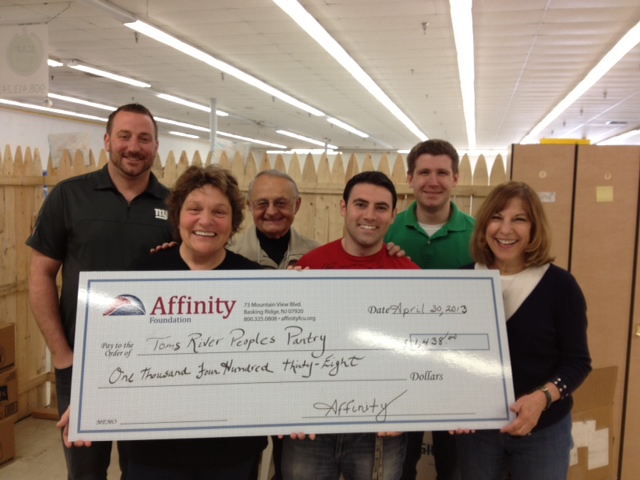 Affinity Federal Credit Union Employees Drop and Distribute Donations for Victims of Hurricane Sandy
Credit Union Partners with The People's Pantry in Toms River, NJ
BASKING RIDGE & TOMS RIVER, NJ (June 4, 2013) As part of a second wave of fundraising, the employees of Affinity Federal Credit Union continued their drive for donations for victims of Hurricane Sandy.  The credit union, headquartered in Basking Ridge, NJ, collected much needed items which, along with a monetary donation, were presented to The People's Pantry in Toms River, NJ.
According to Beth Degnan, executive director of the Affinity Federal Credit Union Foundation, "Our employees and members have been extremely responsive.  We not only collected donations, but our team delivered the goods and spent the day volunteering at the pantry…we call it walking the dollars."
In addition to a truckload of non-perishable items such as food, bleach, pillows and blankets, Degnan presented the People's Pantry with a check for $1,438.  In December, 2012, Affinity employees raised $1,887 along with a huge amount of goods donated by employees and members.
Degnan noted that everyone at Affinity was quick to pitch in knowing they were providing a vital service to friends, family and neighbors here in NJ.  The People's Pantry has served thousands of local families in the Toms River area and is staffed exclusively by volunteers.
The donations will be coordinated by the Affinity Federal Credit Union Foundation, which is a 501(c) 3 established in 2005.  The Foundation seeks to achieve the highest pinnacle of corporate good citizenry that matches the standard of its parent organization, Affinity Federal Credit Union.  The Foundation partners with a core group of local non-profit service organizations and institutions located throughout the communities where Affinity's membership resides and works.  This philanthropy is a joint effort of monetary gifting by the Foundation and ongoing programs supported by Affinity employee volunteerism.  The outreach is most notably in the area of financial education with the underserved.
For more information about these and other programs, visit www.affinityfcu.org.
Affinity Federal Credit Union:
Affinity Federal Credit Union, New Jersey's largest credit union, is a member-owned, not-for-profit, full-service financial institution with 15 branches throughout New Jersey with more than 133,000 members from more than 2,000 businesses and organizations and total assets in excess of $2 billion.  Headquartered in Basking Ridge, Affinity Federal Credit Union has been offering superior financial services with a member-oriented focus since 1935. For more information, visit www.affinityfcu.org. 
---