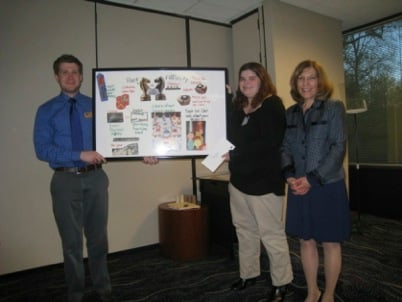 Affinity Federal Credit Union Partners with Somerset Home on Financial Education
BASKING RIDGE & SOMERSET, NJ (May 14, 2013) Employees of Affinity Federal Credit Union, New Jersey's largest credit union, recently hosted a celebratory graduation dinner for students from Somerset Home for Temporarily Displaced Children and Bonnie Brae as they completed their "Financial Arts" curriculum, a series of custom financial literacy classes provided by the Affinity Federal Credit Union Foundation, a 501(c)(3) charity corporation.
The graduation dinner was held at Affinity's headquarters in Basking Ridge, NJ.
Each student made a poster representing some of the financial education themes or ideas they learned throughout the program.  Affinity volunteers then judged the entries and presented a prize to the top three winners.
Jamierose Wilson, a student from Somerset Home, took first place and spoke at the graduation.  She shared with the audience the highlights of her class: "I learned what a credit score was and how important it is for my future.  Before taking this class, I was unaware that my credit score would play a role in applying for a job in the near future or that checking my credit score could negatively affect it."
Wilson also noted that the class taught her the difference between buying and financing a car, and the benefits of each. Lastly, she learned about debit cards and their conveniences as well as some of the hidden charges you can face when using them.
According to Beth Degnan, executive director of the Affinity Foundation, "It's our goal to 'walk the dollars', so whenever we support an organization financially, we also like to take it a step further and really try to be part of what they're doing.  In this case, our employees volunteered to teach a weekly class on financial literacy, and they really enjoyed working with the students."
The Affinity Foundation supports a number of local community groups including: Matheny Medical and Educational Center; the Midland School; Community Hope, Inc.; Somerset Home for Temporarily Displaced Children; Bonnie Brae; Saint Clare's Hospital; St. Peter's Healthcare System; Morris County Organization for Hispanic Affairs; Adult Day Center of Somerset County; Middle Earth, and the Raritan Valley Community College Foundation, in addition to providing an annual scholarship program for members.
About Affinity Federal Credit Union
Affinity Federal Credit Union, New Jersey's largest credit union, is a member-owned, not-for-profit, full-service financial institution with 15 branches throughout New Jersey with more than 133,000 members from more than 2,000 businesses and organizations and total assets in excess of $2 billion.  Headquartered in Basking Ridge, Affinity Federal Credit Union has been offering superior financial services with a member-oriented focus since 1935. For more information, visit www.affinityfcu.org.
---