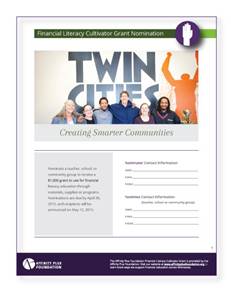 Affinity Plus Foundation awards five $1,000 grants in support of financial education
Teachers, schools, and community groups were invited to share why financial education is important in their applications
ST. PAUL, MN (May 20, 2015) – The Affinity Plus Foundation awarded five $1,000 grants to deserving recipients across the state of Minnesota. The Foundation's Cultivator Grant recognizes a teacher, school or community group that believes in the difference financial education can make in one's life. The grant dollars are offered for curriculum or materials in support of existing and new financial literacy programming. Applicants can be nominated or self-submitted, and must answer the question of why financial education is important.
"The Cultivator Grant is a way for individuals and nonprofit organizations to gain funding and recognition for their dedication to financial literacy," commented Amy Hanson, Executive Director. "We look forward to seeing the grant dollars in action with each of our exceptional recipients."
The 2015 Cultivator Grant winners are: EMERGE, Shawna Thompson; New Prague ALC, Jolene Carlson; NeighborWorks Home Partners, Jason Peterson; Boys and Girls Club of the Bemidji Area, Andrea Ohnstad; and Under Construction, Ethan Laubach.
"We are honored to have received this award to help support our financial literacy program," said Jason Peterson, NeighborWorks Home Partners. "We are just entering our second year offering our financial literacy program called "Enhancing Financial Capabilities", and this award comes at the perfect time as we look to grow this program."
In an effort to increase accessibility to financial education, the Foundation increased the amount of available grants from two $1,000 grants to five grants this year. The Cultivator Grant was first introduced in 2013 and is made possible by the funds raised through Affinity Plus Foundation events such as the upcoming golf and fishing tournaments and the silent auction in the fall.
"Thank you so much for this wonderful gift to our school," said Jolene Carlson, New Prague ALC. "We look forward to offering our students further financial education opportunities with this grant."
For more information about the Affinity Plus Foundation and their programs and upcoming events, please visit www.affinityplusfoundation.org.
Photo caption: Image of Cultivator Grant application
About the Affinity Plus Foundation
Founded in 2000, the Affinity Plus Foundation is a 501(c)(3) serving Minnesota communities. The Foundation proudly administers its own scholarship program, awards grants to nonprofit groups and schools, and supports financial education initiatives through partnerships, presentations and resources. The Foundation operates on funds generated from its annual golf tournament, fishing tournament, silent auction, Affinity Plus Federal Credit Union and generous donations from members of the community who believe in bettering the quality of life for others through equitable financial education for all. For more information about the Foundation, visit www.affinityplusfoundation.org.
---