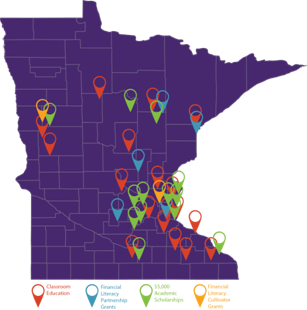 Affinity Plus Foundation celebrates 2014, releases Impact Report
ST. PAUL, MN (May 4, 2015) — Over 30 members and volunteers of the Affinity Plus Foundation gathered on Wednesday, April 29 for the 14thAnnual Meeting. Attendees celebrated giving over $80,000 to support the mission of enhancing the quality of life in Minnesota communities through partnership, programs and support. During the meeting, the Foundation Board of Directors released its Impact Report detailing the grant, scholarship and fundraising programs.
"2014 was a banner year for giving, fundraising and outreach," commented Executive Director Amy Hanson. "From Winona to Duluth and Rochester to Moorhead, the impact of the Foundation was made possible by the outstanding efforts of our members and volunteers."
The Affinity Plus Foundation granted over $55,000 to 501(c)(3) community organizations that provide financial education. Recipients included Mn BestPrep, MORE, and Twin Cities RISE!. An additional $25,000 was awarded to five credit union member students to assist in pursuing higher education.
Also in 2014, employees of Affinity Plus Federal Credit Union experienced in public speaking, knowledgeable of various financial topics and passionate about financial education, were joined to form the Educator's Group. This group was utilized to support grant funds through volunteering their time and expertise in the classrooms and community rooms of Foundation partners.
For more information about the Affinity Plus Foundation and their programs, please visit www.affinityplusfoundation.org.    
About the Affinity Plus Foundation

Founded in 2000, the Affinity Plus Foundation is a 501(c)(3) serving Minnesota communities. The Foundation proudly administers its own scholarship program, awards grants to nonprofit groups and schools, and supports financial education initiatives through partnerships, presentations and resources. The Foundation operates on funds generated from its annual golf tournament, fishing tournament, silent auction, Affinity Plus Federal Credit Union and generous donations from members of the community who believe in bettering the quality of life for others through equitable financial education for all. For more information about the Foundation, visit www.affinityplusfoundation.org.
---