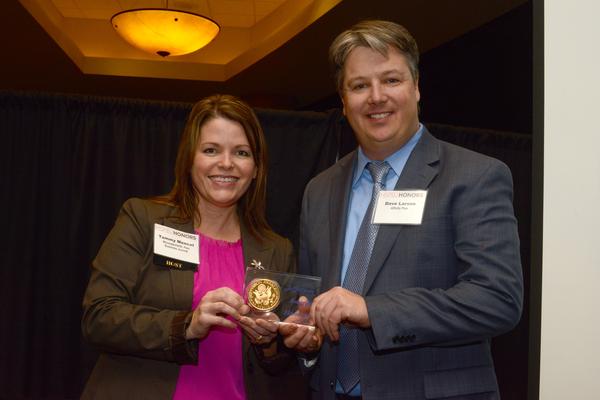 Affinity Plus receives Jefferson Award
ST. PAUL, MN (December 19, 2013) —  Affinity Plus Federal Credit Union was honored with a Jefferson Award for Corporate Giving by the Minneapolis – St. Paul Business Journal at a ceremony on Thursday, Dec. 5.
"It's such a humbling experience to receive an award like this because Affinity Plus has always believed, and will always believe, in doing what's right," states Dave Larson, Affinity Plus President and CEO. "This philosophy isn't unique to our employees though, our members truly embody it as well. The relationships we've built with them makes it possible for us to positively impact the communities in our state, so this award, really, acknowledges our cooperative commitment and action to giving back."
Affinity Plus received the award because of the time, talent and energy it dedicates to local charitable causes which includes partnering with five local Charities of Choice and supporting them through the collection of donations, promoting their causes, coordinating volunteer events, and more. Additionally, Affinity Plus orchestrated a statewide "Plus It Forward Day" on Saturday, Sept. 21, in which communities across the state were positively impacted through various efforts of volunteerism.
The Jefferson Awards were founded in 1972 by Jacqueline Kennedy Onassis, U.S. Sen. Robert Taft Jr., and Sam Beard, founder and chairman of the National Development Council, to honor community service. Past winners that were recognized at a national level include Blue Cross and Blue Shield of Minnesota, Best Buy Co. Inc., and Northeast Bank.
About Affinity Plus Federal Credit Union
Affinity Plus Federal Credit Union is a not-for-profit cooperative that puts people first above profits. We are committed to empowering consumers – for knowledge, for understanding and to know there are alternatives that focus on the success of people, not the bottom line. Members of Affinity Plus receive maximum value through competitive rates, minimal fees, and unique, member –centric products and programs. Affinity Plus is the largest credit union in Minnesota with state-based assets and has 27 branches located throughout the state. With more than $1.7 billion in assets, Affinity Plus is based in St. Paul and is owned by more than 180,000 members. Through a broad range of eligibility criteria, almost anyone can become a member of Affinity Plus. Additional information is available atwww.affinityplus.org or by calling 800-322-7228.
---