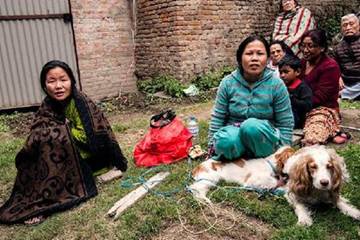 Affinity Plus supports American Red Cross relief efforts
Credit union hosts blood drives and announces the collection and match of donations up to $5,000 for Nepal
ST. PAUL, MN (April 30, 2015) — In the past two weeks, Affinity Plus has been actively engaging its membership through its partnership with the American Red Cross – Minnesota Region by hosting blood drives and most recently, announcing that it's collecting donations to support the Red Cross relief efforts for those affected by the earthquake in Nepal. The credit union is collecting donations through May 30 and is providing a match of $5,000. Donations can be made in a branch or over the phone by calling (800) 322-7228.
cid:image002.jpg@01D081D5.B7F33190"Our thoughts go out to all of the people affected by this tragedy," stated Affinity Plus President and CEO, Dave Larson.
"We're proud to partner with the Red Cross because they demonstrate an acute ability to adapt and provide support to people in need," shares Larson. "What I'm most proud of is that our members asked us to support this cause, which further demonstrates our cooperative model of people-helping-people."
Prior to announcing the credit union was collecting donations, student members at college branch campuses of Affinity Plus began sharing their own efforts of supporting the relief efforts, and asking Affinity Plus for help. The credit union quickly responded by opening a fund, providing a match up to $5,000, and sharing the opportunity for all people to donate on its website and social media.
"It is an incredible honor to help these students," says Larson. "Students from Nepal who are attending school at the colleges on which we have an on-campus presence have been stopping in to chat, sharing their appreciation, and thanking us for our support."
Affinity Plus selected the American Red Cross – Minnesota Region as a Charity of Choice in 2005. Members and employees are able to donate cash and rewards points to the Red Cross throughout the year and are given opportunities to further engage with the organization when the credit union provides a monetary match for relief efforts, sends cards to military overseas, and hosts bloods drives.
Affinity Plus recently hosted blood drives at its St. Cloud branch on April 20, St. Paul – Capitol branch on April 21, and at its headquarters in St. Paul on April 28. The total amount donated from these drives was 58 pints of blood, and tomorrow, the credit union will another amount to this following the drive happening at its Minneapolis – University branch from 10 a.m. – 4 p.m.
About Affinity Plus Federal Credit Union
Affinity Plus Federal Credit Union is a not-for-profit cooperative that puts people first above profits. We are committed to empowering consumers – for knowledge, for understanding and to know there are alternatives that focus on the success of people, not the bottom line. Members of Affinity Plus receive maximum value through competitive rates, minimal fees, and unique, member –centric products and programs. Affinity Plus is the largest credit union in Minnesota with state-based assets and has 27 branches located throughout the state. With more than $1.7 billion in assets, Affinity Plus is based in St. Paul and is owned by more than 180,000 members. Through a broad range of eligibility criteria, almost anyone can become a member of Affinity Plus. Additional information is available at www.affinityplus.org or by calling 800-322-7228.
---