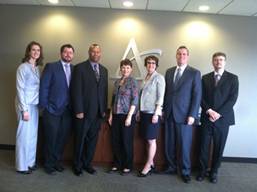 Affinity Plus welcomes Minnesota Senate President to its St. Paul headquarters
ST. PAUL, MN (April 7, 2015) — Affinity Plus Federal Credit Union hosted the honorable Senator Sandra Pappas, President of the Minnesota Senate, at its headquarters in St. Paul on Wednesday, April 1. At the meeting, members of Affinity Plus' senior management team shared information about the credit union; engaged with Sen. Pappas to deepen awareness of products, services and community activities; and discussed future opportunities to help members and communities.
Members of the credit union's senior team who met with the senator included CFO Brian Volkmann; SVP Cary Tonne; CIO Keith Malbrue; COO Bill Urick; SVP Sarah Olson; and SVP Kristina Wright.
For the past 30 years, Sen. Pappas has served in state government, first elected to the Minnesota House of Representatives in 1984 and the State Senate in 1990. In addition to her role as the President of the Minnesota Senate, Sen. Pappas represents downtown St. Paul and surrounding inner-city neighborhoods (Senate District 65).
Affinity Plus has two branch locations within Sen. Pappas' district – which includes the credit union's headquarters located at 175 W. Lafayette Frontage Road in St. Paul and a branch office on Sherburne Avenue. In total, 3,871 Affinity Plus members live in Senate District 65, and Affinity Plus provides 238 jobs in the district. Statewide, Affinity Plus serves its 185,000 members through 27 branch locations, employing 500 Minnesotans.
The credit union provided information about membership growth, product & service offerings, technological enhancements, and community outreach activities.
Sen. Pappas stressed the importance of diversity in membership, hiring practices, and the need to provide financial education to consumers within her district. She also encouraged Affinity Plus to broaden the marketing of its new business services product offerings – just launched in 2014 – to immigrants and low-income communities.
"We're thankful to have the opportunity to meet with Senator Pappas, and we appreciate her willingness to listen and provide feedback about how we can work together for the greater benefit of those who live in her district," Wright said.
Pictured (from left to right): SVP Kristina Wright, CFO Brian Volkmann, CIO Keith Malbrue, Sen. Sandra Pappas, SVP Sarah Olson, COO Bill Urick, SVP Cary Tonne.
About Affinity Plus Federal Credit Union
Affinity Plus Federal Credit Union is a not-for-profit cooperative that puts people first above profits. We are committed to empowering consumers – for knowledge, for understanding and to know there are alternatives that focus on the success of people, not the bottom line. Members of Affinity Plus receive maximum value through competitive rates, minimal fees, and unique, member –centric products and programs. Affinity Plus is the largest credit union in Minnesota with state-based assets and has 27 branches located throughout the state. With more than $1.7 billion in assets, Affinity Plus is based in St. Paul and is owned by more than 180,000 members. Through a broad range of eligibility criteria, almost anyone can become a member of Affinity Plus. Additional information is available at www.affinityplus.org or by calling 800-322-7228.
---