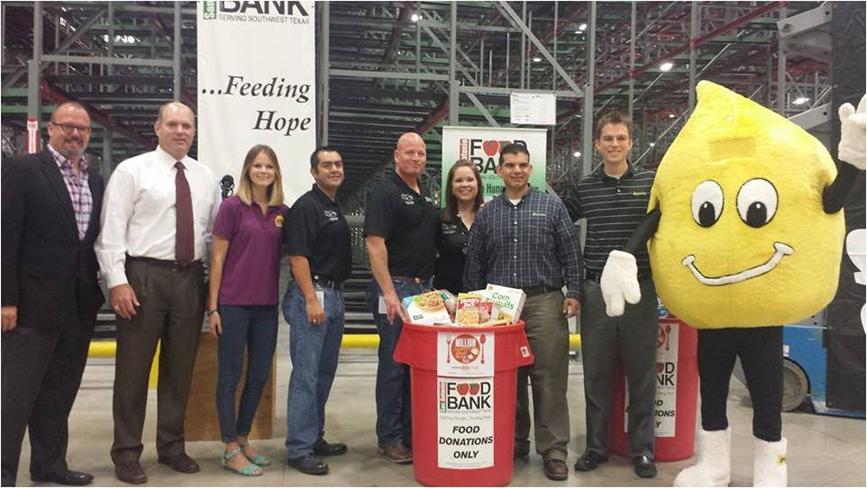 Air Force Federal Credit Union joins KENS 5 "Million Summer Meals for Kids" Food Drive to support the San Antonio Food Bank
SAN ANTONIO, TX (July 11, 2014) — Air Force Federal Credit Union (Air Force FCU) is joining KENS 5 (www.kens5.com) and the San Antonio Food Bank (www.safoodbank.org)  to help raise a "Million Summer Meals for Kids." This food drive is intended to help provide nutritional meals for children in need during the summer months.
In unfortunate circumstances, low-income children lose access to the breakfast and lunch meals they normally receive during the school year. In addition, many families are burdened with higher bills and day care costs in the summer months, adding stress to family finances at the expense of children eating proper and nutritional meals. This food drive will fill that need.
"With summer being our greatest time of need during the year, we are at a critical time to call on the community to step forward and help us ensure that no child goes hungry," President/CEO Eric Cooper said. "Partners like Air Force Federal Credit Union are vital to our success.  Their members will heed the call to act and donate this summer to help make Million Summer Meals for Kids a success. And we couldn't be more grateful!"
"A Million Summer Meals for Kids" kicked off on May 22nd and will run through August 22nd. Donations are accepted at any Air Force FCU branch location, with donations barrels set up in each lobby.   Any non-perishable foods such as peanut butter, cereal, tuna, macaroni & cheese, canned goods and soups are acceptable items to donate. Monetary donations are also being accepted at the branch teller lines. A simple $1.00 donation can provide up to seven meals.
"Air Force FCU is proud to support this noble effort," said Danny Sanchez VP of Marketing at Air Force FCU. "The children of our community should not go hungry.  It's important to this credit union and to our members that we be part of this crusade to fight hunger. We will do it one meal at a time until we hit our goal."
About Air Force FCU
Air Force FCU serves the diverse needs of over 40,000 members worldwide with a full array of financial services and the strength of more than $370 million in assets.  For additional details about Air Force FCU, visit www.airforcefcu.com.
---