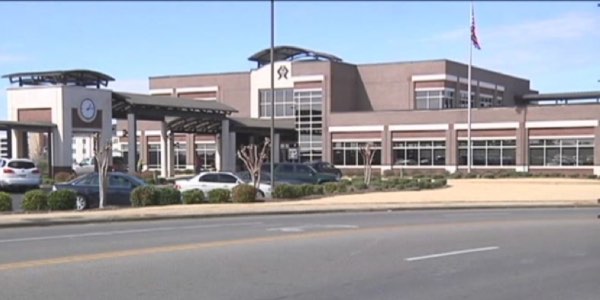 Alabama One Credit Union files lawsuit against Chief Legal Advisor to Gov. Bentley, State Sen. Allen, and other Alabama officials and local attorneys
Federal Lawsuit Seeks Damages for Alleged Conspiracy, Due Process Violations, and Defamation
 
TUSCALOOSA, AL (June 29, 2015) — One of Alabama's largest credit unions today filed a federal lawsuit against Alabama public officials, including a state senator and a senior aide to the governor, local attorneys, and others, alleging conspiracy and abuse of power emanating from Gov. Robert Bentley's office to coerce tens of millions of dollars in legal settlements from the credit union after it received clean bills of health from state and federal regulators. Alabama One Credit Union, a 65-year-old member-owned, not-for-profit, full-service financial institution serving 21 counties across the state, alleges a conspiracy involving Governor Bentley's chief legal advisor, David Byrne; State Sen. Gerald H. Allen; the current and former administrators of the Alabama Credit Union Administration, and private attorneys in Tuscaloosa, who allegedly improperly influenced the state officials.
The suit alleges that the public officials grossly abused their power and state positions solely to enrich a political and personal friend – Tuscaloosa plaintiff's attorney Justice D. "Jay" Smyth, III, who allegedly orchestrated the scheme to pressure and coerce Alabama One into settling five frivolous lawsuits that he and cohorts had filed against the credit union.
The fact that Smyth had secret meetings at the state Capitol with the governor, his chief legal advisor who is also a former law partner and longtime friend of Smyth, and a state senator to discuss Alabama One and Smyth's clients' lawsuits against the credit union "should cause every Alabama resident substantial concern. And it speaks volumes about what Alabama One has gone through," today's lawsuit states.
The suit was filed in Federal Court in Tuscaloosa on behalf of Alabama One and its CEO, John Dee Carruth, following threats that the Alabama Credit Union Administration (ACUA), which was allegedly being used as "weapon of destruction," would place Alabama One in conservatorship – the agency's harshest sanction. The suit names the following defendants:
David Byrne, Chief Legal Advisor to Governor Bentley and Smyth's former law partner and long-time friend;
State Sen. Gerald H. Allen
Sarah Moore, current Administrator of the ACUA;
Justice D. "Jay" Smyth, III;
Lewis Smyth Winter Ford LLC in Tuscaloosa;
Albert G. Lewis, III, Smyth's law partner;
Bobby Cockrell, also a Tuscaloosa plaintiff's attorney;
Doug Key, the CEO of a competitor credit union who the ACUA installed as temporary CEO at Alabama One in 2014; and
Larry D. Morgan, the former Administrator of the ACUA.
"The investigations and threatened sanctions that the ACUA has brought against Alabama One have nothing to do with the public interest or any legitimate government function. They are, rather, the result of a regulatory system captive to and manipulated by the personal interests of a politically-connected lawyer, Smyth, his partners and co-counsel, Governor Bentley, [ ] Byrne, and Senator Allen," the suit claims.
Since November 2013, Smyth allegedly exerted influence to use improper and unwarranted state regulatory pressure as a lever to coerce settlements from Alabama One. The allegations are supported by sworn testimony, more than 100 emails, and numerous in-person meetings with Governor Bentley, Senator Allen, and Byrne, replete with allegedly defamatory falsehoods levelled against the credit union.
The allegedly frivolous lawsuits filed by Smyth and his allies sought somehow to blame Alabama One for the individual plaintiffs doing business with a convicted felon whose business loans from the credit union inadvertently exceeded the regulatory cap on the percentage of loans to a single member. "These lawsuits were nothing more than an old-fashioned stick-up," the lawsuit claims.
Smyth and his cohorts took little action to prosecute these lawsuits, allegedly knowing that they would not be able to prevail on the merits. Consequently, they hatched a plan to improperly increase "bogus regulatory pressure" on Alabama One to coerce high-dollar settlements. This was despite the fact that Alabama One had received three letters of commendation from state and federal regulators congratulating Alabama One for complying with and satisfying many regulatory concerns, according to the complaint.
Today's suit was filed on the heels of a June 2, 2015, deposition by defendant Morgan, ACUA's former Administrator, who testified that he had absolutely no proper or legitimate basis to suspend Carruth or other Alabama One employees on Feb. 28, 2014. Morgan further testified that, unlike any other official action he had ever taken as ACUA Administrator, it was not his decision to suspend Carruth and others, and he did not prepare the suspension letters even though they bore his signature. Those letters, the suit claims, copied the wording of a memo that Smyth wrote three weeks earlier to Senator Allen.
Morgan resigned as ACUA Administrator in March 2014, just one day after Carruth and other Alabama One employees were reinstated to their posts, and he was succeeded the following month by Moore, who had no credit union regulatory experience, but had been an executive of a failed bank in Montgomery, where she worked closely with Byrne. Moore immediately began ratcheting up the pressure on Alabama One, including issuing a Cease and Desist Order in April and threatening conservatorship, the suit alleges.
Despite the allegation that Byrne and Governor Bentley participated in hours of secret meetings to discuss improper regulatory pressure on Alabama One, the credit union's plea in April of this year for a meeting with the governor fell on deaf ears. After Alabama One's board chair requested a meeting with the governor, Byrne responded that Governor Bentley was too busy to meet because of the state's budget crisis. At the same time, the lawsuit states, ACUA spent $775,000 outside of its budget to implement the scheme to coerce money from Alabama One.
Alabama One's lawsuit contains allegations that it must prove by a preponderance of the evidence.
---