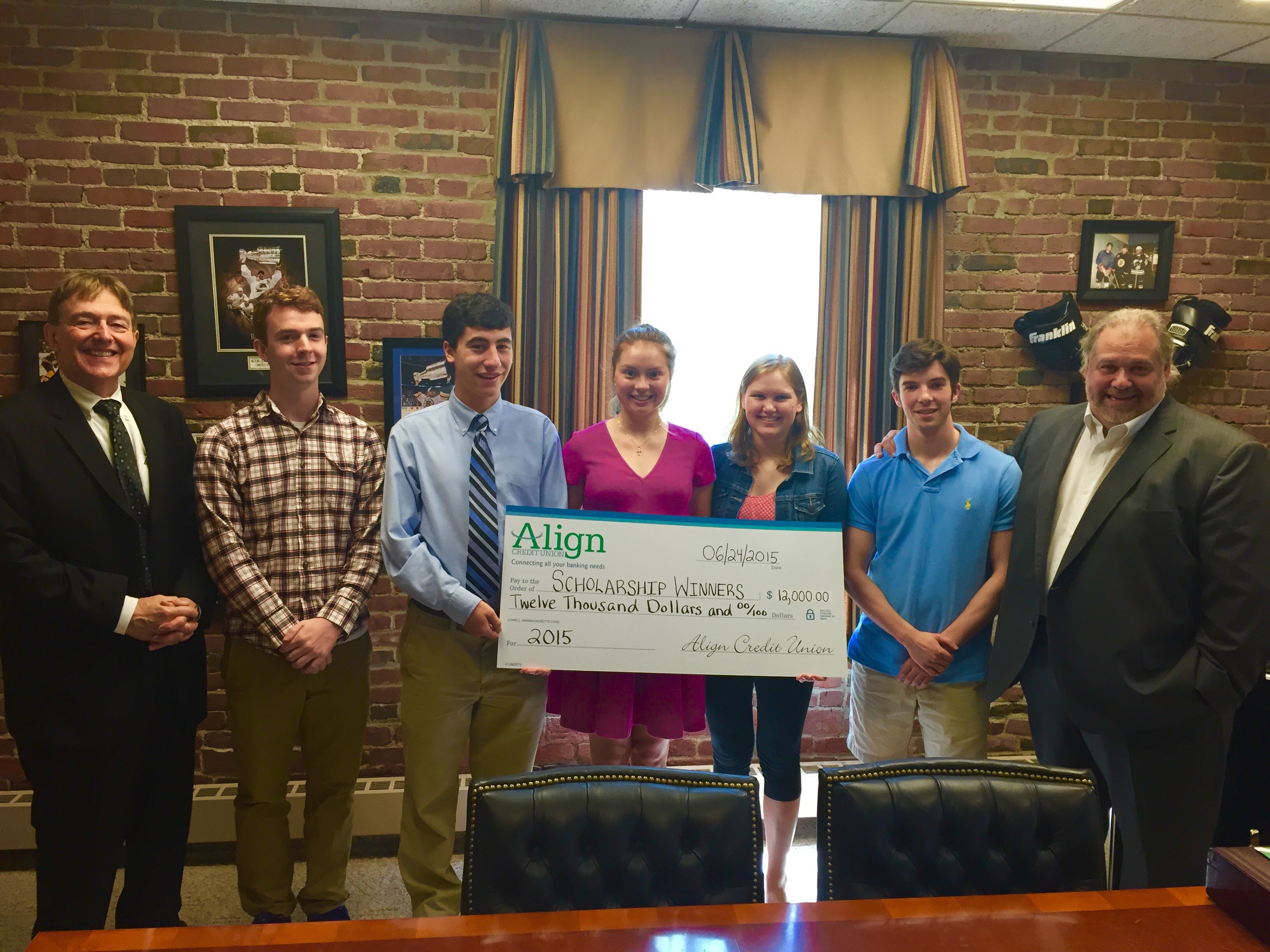 Align Credit Union awards $12,000 in scholarships to local students
LOWELL, MA (June 29, 2015) — Align Credit Union is proud to announce the winners of its 22nd annual scholarship program. Since the program's inception in 1994, Align has awarded scholarships to more than 240 students to assist them with their pursuit of higher education.
This year's winners are Alexander Corcoran of Dracut, MA; Andrew Dunn of Westford, MA; Thomas Caron of Andover, MA; Molly Burke of Westborough, MA; Jillian Connolly of Peabody, MA; Raquel Leslie of Danvers, MA; Sarah Moran of Framingham, MA; Krystyn Sylvester of Lowell, MA; Adarema Opara of Lowell, MA; Jason Trefry of Danvers, MA; Summer Kelly of Billerica, MA; Shannon Manuel of Andover, MA; Rebecca Hardenstine of Danvers, MA.
"The value of an education is immeasurable," stated Align President and CEO Ken Del Rossi. "With the cost of a college education escalating each year, we are more committed than ever to helping our Members bridge the gap as they pursue their dreams of higher education."
Photo caption: (from L-R): Align Board Member and Scholarship Committee Chairman Richard Piecewicz; scholarship winners Andrew Dunn, Alexander Corcoran, Shannon Manuel, Jillian Connolly, Thomas Caron; Align President and CEO Ken Del Rossi.
About Align Credit Union
Since 1922, Align Credit Union has provided customized banking solutions to individuals and families throughout Northeastern Massachusetts and Southern New Hampshire. Align offers a full suite of products and services including Personal and Business Banking, Mortgages, Financial Planning and Insurance. Founded as the Northern Massachusetts Telephone Workers Credit Union (NMTW), the Credit Union changed its name to Align in 2013. Membership is open to anyone who lives, works or attends school in many communities throughout Eastern Massachusetts and Southern New Hampshire. For additional information, stop by one of six branches in Amesbury, Danvers, Framingham, Haverhill and Lowell or visit www.AlignCU.com.
---