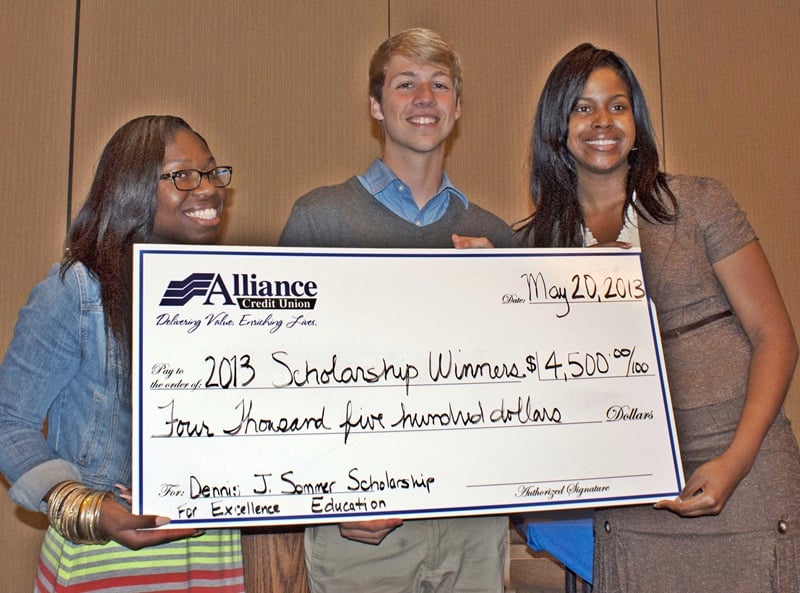 Alliance Credit Union Awards Three College Scholarships
FENTON, MO (May 20, 2013) Alliance Credit Union awarded three $1,500 college scholarships at its 65th Annual Meeting on May 20, 2013 at the Lodge Des Peres in St. Louis, Missouri.
Scholarships recipients were selected on their ability to highlight the differences between banks and credit unions and the significance of those differences in an essay. This is the 17th year of Alliance's scholarship program, which has awarded more than $60,000 in college scholarships to date.
"We want to recognize the achievements of these young men and women and help them become future leaders and decision makers in the community," said Alliance CEO Tim Stephens. "Giving them a start on their education is something Alliance values and will continue to do."
This year's scholarship winners included Darlene Herron who is attending Meramec Community College to study computer engineering. Jack Flemming, a senior at Fort Zumwalt South High School, will attend the University of Missouri-Columbia and will major in journalism. Linda Watson is currently attending Meramec Community College with plans of attending the Barnes and Jewish Goldfarb School of Nursing.Scholarship funds will be paid to the student's chosen university in their name.
The board also renamed the annual scholarship at the meeting after former President/CEO Dennis Sommer, who retired after 28 years of service. The scholarship will now be called "The Dennis J. Sommer Scholarship for Excellence & Education." To be eligible, applicants must be Alliance Credit Union members (or the son, daughter or grandchild of an Alliance member), as well as either a full-time college student or a high school student that will be a full-time college student in the following year.
About Alliance Credit Union
Alliance Credit Union is a $200 million credit union serving those who live or work in St. Louis, St. Charles, Franklin or Jefferson Counties in Missouri or Jersey, Madison, Monroe or St. Clair Counties in Illinois. Alliance serves more than 17,000 members and offers a full line of financial services, including deposit/investment accounts, consumer loans, home loans and business services. For more information, call (636) 343-7005, toll free (800) 541-6131, or visit www.alliancecu.com.
---