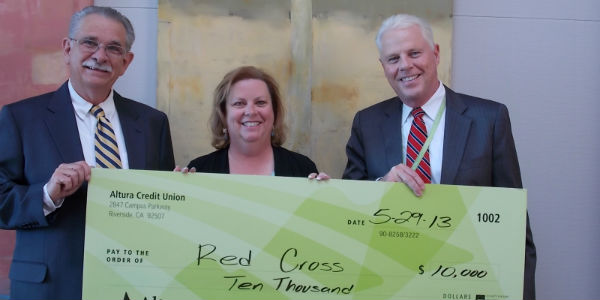 Altura Credit Union Donates $10,000 for Oklahoma Tornado Relief
Corporate Donation to American Red Cross
RIVERSIDE, CA (May 30, 2013) Altura Credit Union has presented a $10,000 check to the American Red Cross to assist with relief efforts for victims of the tornado that devastated Moore, Oklahoma on May 20, 2013.  In addition to 24 fatalities, thousands have been left homeless after the EF5 twister wiped out a wide swath of the Oklahoma City suburb.
"The before and after pictures of Moore are unbelievable," said Altura CEO Mark Hawkins.  "The power of this tornado is difficult to comprehend.  Homes weren't just damaged, they were scoured from their foundations.  Many people are starting over with nothing.  Our donation to the Red Cross can help these people get through the initial phase of this crisis."
In addition to its corporate donation, Altura is encouraging its Members to give whatever they can to assist these families that lost everything.  "These kinds of threats exist for many of us around the country," Hawkins pointed out.  "In our nation's heartland, it's tornados.  Hurricanes threaten the south and east coasts, and out west, we face wildfires and earthquakes.  As Americans, we all need to reach out to assist how we can. That's what this is about."
To make it easier for Members to donate, the rotating banner on Altura's website, AlturaCU.com, links to the Red Cross website, RedCross.org.
Altura is very proud of its 56 years of service to Members in the Inland Empire.  Today Altura is open to anyone who lives, works, attends school or worships in Riverside and San Diego counties, as well as selected cities in Orange and San Bernardino counties.  Altura Credit Union, www.alturacu.com, has been recognized with the California Award for Performance Excellence (CAPE), the state's equivalent of the Malcolm Baldrige National Quality Award.  Today, Altura Credit Union 86,500 members and has $718.14 million in total assets.  For more information on Altura, visit our website, www.alturacu.com, or call 1-888-883-7228.
---