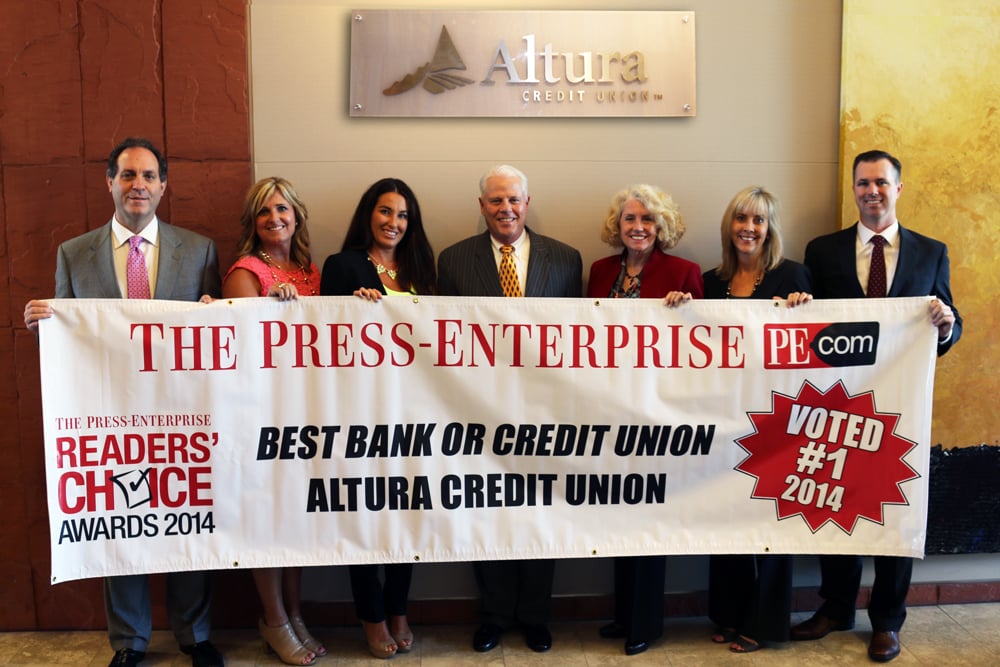 Altura Credit Union named 'Best Credit Union' by newspaper readers
RIVERSIDE, CA  (October 9, 2014) — For the second time in three years, Riverside-based Altura Credit Union has been chosen as the "Best Bank or Credit Union" by readers of The Press-Enterprise in its Annual Readers' Choice Awards announced in a special edition of the paper recently.
Altura Credit Union is the largest credit union headquartered in Riverside County, which is part of the Inland Empire region of Southern California, about 60 miles east of Los Angeles.  The Press-Enterprise is a Pulitzer Prize-winning daily newspaper, also the largest in the Inland Empire.
"We are honored that the readers of the Press-Enterprise have again recognized Altura for our service to our Members and the community," said Mark Hawkins, Altura CEO.  "We have been an integral part of this community since our founding in 1957. For thepast few years, we have focused on tailoring our products and services to offer people a better fit for their financially related needs.  This honor recognizes our efforts."
Photo Caption:
Members of Altura Credit Union's Executive Team display the banner proclaiming Altura as "Best Bank or Credit Union" in the 2014 Readers' Choice Awards conducted by The Press-Enterprise newspaper.  From left:  CFO Mark Pedersen, Chief Lending Officer Suzie Kisslan, COO Jennifer Binkley, CEO Mark Hawkins, Internal Auditor Debora Sigler, Human Resources SVP Erin Fuller, and Information Technology VP Kevin Sherrell.
Altura is very proud of its 57 years of service to Members in the Inland Empire.  Altura is a past-recipient of the California Award for Performance Excellence (CAPE), the state's equivalent of the Malcolm Baldrige National Quality Award.  Today, Altura Credit Union has 85,500 Members and nearly $731 million in total assets.  For more information on Altura, visit our website, www.alturacu.com, or call 1-888-883-7228.
---