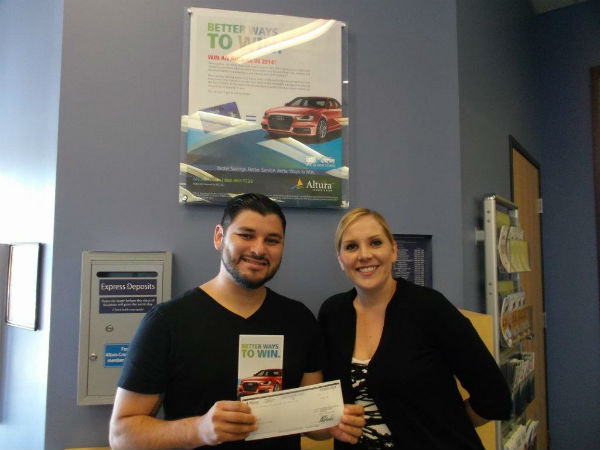 Altura's debit card promotion names another winner
RIVERSIDE, CA (September 23, 2014) — Anthony Perez, 27, of Hemet is the August winner in Altura Credit Union's "Better Ways to Win" debit card promotion going on throughout 2014. Perez won $500 for simply using his Altura Visa® Debit Card to make apurchase. Each monthly winner throughout 2014 will be entered for a chance to win an Audi A4.
Perez joined Altura when he was 18 after hearing about the credit union from a friend's mother. Perez told Altura he is very excited about winning.  He added that the money couldn't come at a better time because he and his wife are about to close escrow on a home.
Although Altura membership is not necessary to enter the "Better Ways to Win" campaign, Altura members can earn additional entries each month by using their Altura Visa Debit Card to make purchases.  All approved purchase transactions will count as an extra entry (All ATM transactions are excluded).
Altura members can register to participate by signing into online banking, calling Member Services or visiting an Altura branch. Non-members can register by mailing a 3 x 5 card to Altura Credit Union for one entry. For more information about the promotion and official rules, visit Altura's website, www.AlturaCU.com.
Altura Credit Union's products and services are available to its members. Individuals can join Altura for a one-time membership fee of $10.  Membership is open to persons who live, work, attend school or worship in Riverside and San Diego counties and selected cities in San Bernardino and Orange counties.  As a credit union, Altura is a not-for-profit financial cooperative owned by its members.
Photo Caption:
Hemet resident and Altura Credit Union member Anthony Perez accepts a check for $500 from Jaquelynn Sisk, a supervisor at Altura's Hemet branch.  Perez won the August drawing for $500 as part of Altura's "Better Ways to Win" campaign, which highlights the ease and convenience of using Altura's Visa Debit Card to make purchases. He is now entered for a chance to win an Audi A4.
---