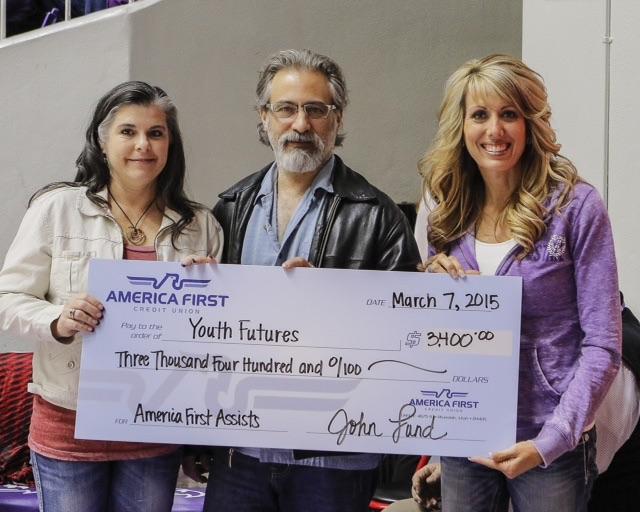 America First Credit Union gives $3,400 to help homeless youth in Utah
OGDEN, UTAH (March 13, 2015) — America First Credit Union awarded Youth Futures Utah, a homeless shelter for youth, with $3,400 during the Weber State University basketball game on Saturday, March 7. America First paid the organization $10 for each assist the Weber State University basketball team completed throughout the 2014 – 2015 season. With 340 assists, the donation amounted to $3,400 in total for the newly-opened youth homeless organization, located in Ogden, Utah.
Youth Futures Utah is a 501(c)3 organization committed to the well-being of the youth of Utah. The mission of Youth Futures Utah is to provide shelter, support, resources and guidance to homeless, unaccompanied and runaway youth in Utah. Youth Futures connects each youth with food, housing and resources to build the skills needed to support a healthy future.
With a long-standing history and more than 76 years servicing members, America First has become one of the largest, most stable and most progressive credit unions in the country, and has remained a member-owned, not-for-profit cooperative financial institution. Today, America First has 109 branches, and is the 12th largest credit union in assets in the United States with over $6.5 billion, and the seventh largest credit union in membership in America with more than 685,000 members.
For additional information, visit www.americafirst.com, America First Credit Union on Facebook, Twitter, @AmericaFirst on Instagram and Pinterest.
---