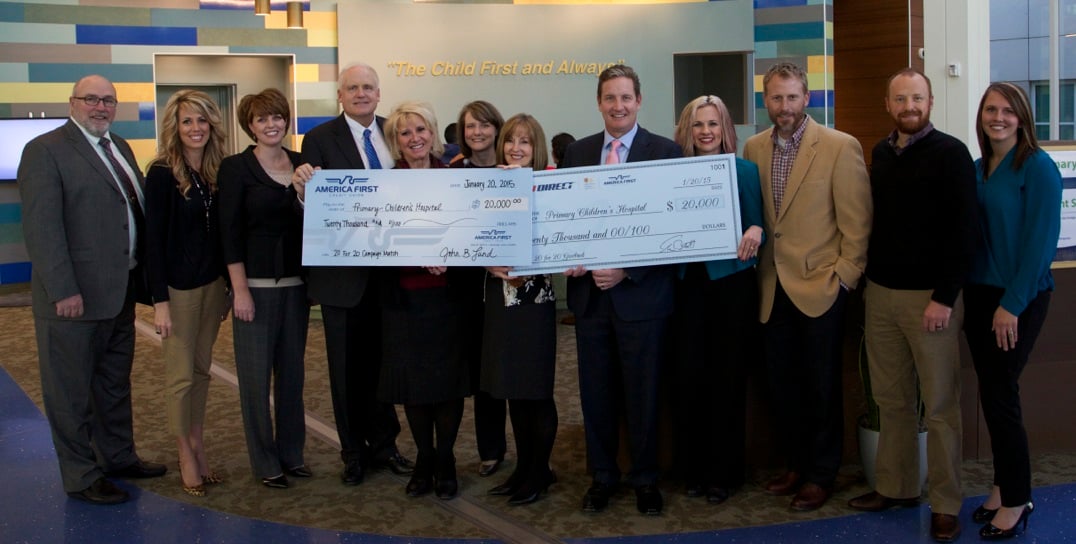 America First Credit Union presents $20k donation to Primary Children's Hospital alongside CU Direct
(January 23, 2015) — Giving back to the communities it serves, America First Credit Union awarded Primary Children's Hospital with a $20K donation, alongside CU Direct on Tuesday, Jan. 20. The donation was a monetary match by America First as part of CU Direct's national 20 for 20 Giveback Campaign, which generated the most online votes for Primary Children's.
CU Direct held an online voting contest from Dec. 2 – 22, 2014 as a way to celebrate its 20th year in business. The company invited credit unions, members, and the general public to vote once daily for the Children's Miracle Network hospitals in their communities.
America First members and employees helped bring the donation to Primary Children's Hospital by generating the most votes through online voting efforts. In addition, America First matched the $20K donation, amounting to $40K in total for Salt Lake's Primary Children's Hospital.
America First has become one of the largest, most stable and most progressive credit unions in the country, and has remained a member-owned, not-for-profit cooperative financial institution. Today, America First has 109 branches, and is the 12th largest credit union in assets in the United States with over $6.4 billion, and the seventh largest credit union in membership in America with more than 671,000 members.
For additional information, visit www.americafirst.com, America First Credit Union on Facebook, Twitter, @AmericaFirst on Instagram and Pinterest.
Photo: America First Credit Union, Primary Children's Hospital and CU Direct executives stand together during a $40k joint check presentation donation on Tuesday, Jan. 20, 2015 at Primary Children's Hospital in Salt Lake City, Utah
---