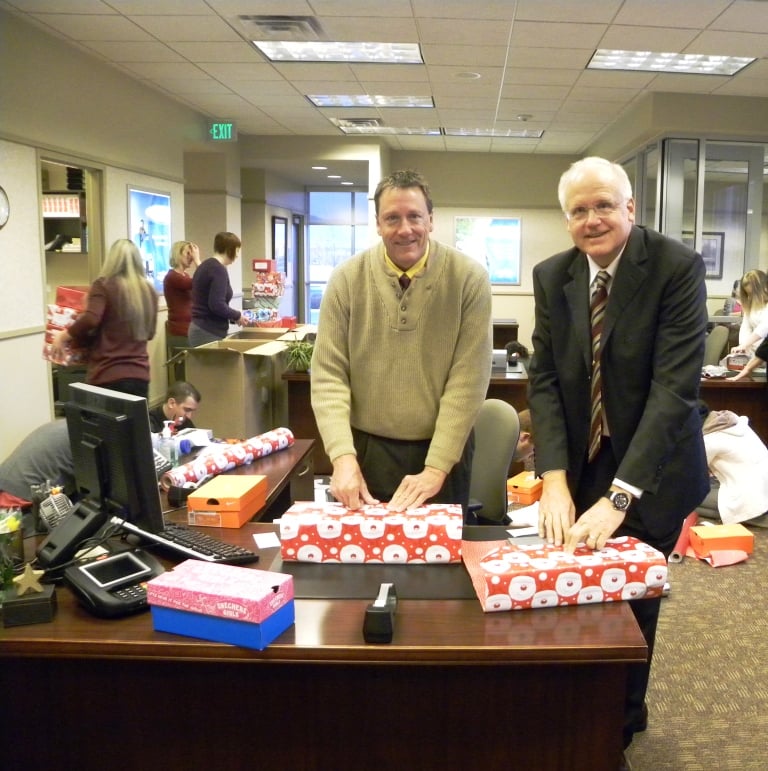 America First Credit Union President Hosts Wrapping Party for Warm the Soles of Kids Program
AMERICAN FORK, UT—December 6, 2012—John Lund, President and CEO of America First Credit Union, recently hosted a holiday gift-wrapping party in American Fork for the 18th Annual Warm the Soles of Kids program.
Lund was joined at the party by America First employee volunteers of the credit union's The Greater Good service program and Randy Halley, Senior Vice President over branches, to wrap new shoes for select children in need.
Children in 10 schools and support programs, from Brigham City to Las Vegas, will be receiving early Christmas presents—new shoes—because of the generosity of America First members, employees, and concerned citizens.
"Our American Fork wrapping party for the Warm the Soles of Kids program was one of many throughout the state during the next couple weeks," said Lund.  "It was fun wrapping with these good employees and feeling the excitement that the new shoes will bring to deserving children."
Donations to Warm the Soles of Kids run through December 31.
To make it easier for members to give, they can now use the Online Banking option at www.americafirst.com to donate. Members are able to transfer the amount of their choice to the Share Savings Account 5502299, using the last name soles.
Also, if members prefer, they can print and compete a donation slip and return it to America First via mail or drop it by any of their 103 branch locations. Members and the public are welcome to call America First at 1-800-999-3961 for additional information.
America First will send a receipt for the generous donations. All contributions are tax-deductible and can be mailed to the following address: America First Credit Union, Attention: Nicole Cypers, P.O. Box 9199, Ogden, UT 84409-0199.
ABOUT AMERICA FIRST
America First Credit Union was founded at Fort Douglas in Salt Lake City on March 16, 1939 by a small group of people determined to form their own cooperative to promote their collective economic well-being. In its 73-year history, America First has become one of the largest, most stable and most progressive credit unions in the country, and has remained a member-owned, not-for-profit cooperative financial institution. Today, America First has 103 branches, and is the 13th largest credit union in assets in the United States with over $5.4 billion, and the 7th largest credit union in membership in America with more than 597,000 members. Visit www.americafirst.com.
---