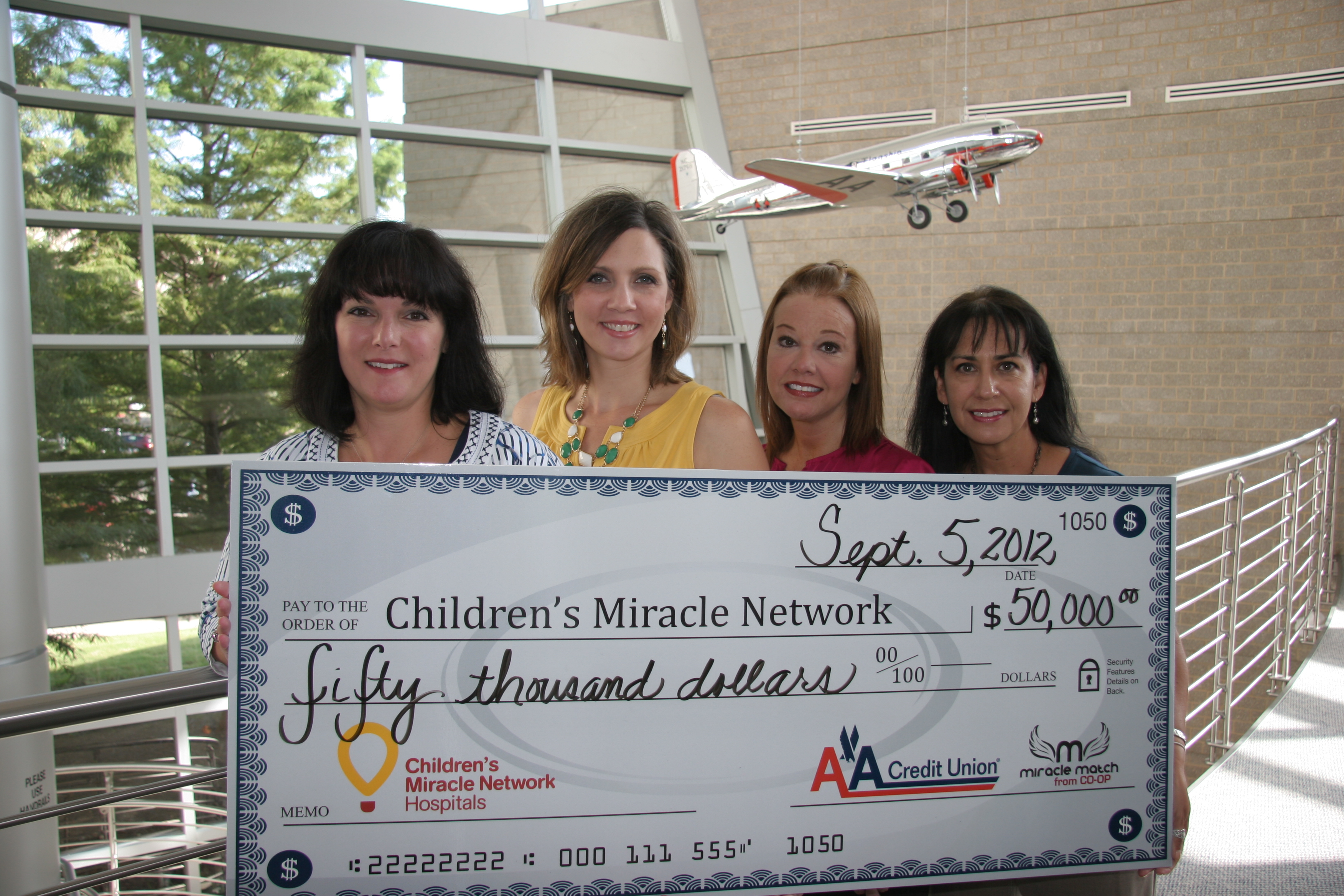 American Airlines Federal Credit Union Makes $50,000 Donation to Children's Miracle Network
FORT WORTH, Texas – AA Credit Union proudly presented Children's Miracle Network Hospitals with a $50,000 donation as a result of the 16th Annual American Airlines Federal Credit Union Golf Tournament – which took place on May 4 at Cowboys Golf Club in Grapevine, Texas. The total donation will be split between Cook Children's Medical Center Foundation and Children's Medical Center Foundation.
The check was presented Sept. 5, 2012, at the AA Credit Union headquarters building in Fort Worth. Angela Bynum, Sponsor Relations Representative at Children's Medical Center of Dallas and Natalie Houghton, Corporate Partners Program Coordinator, Cook Children's Health Foundation, were in attendance to accept the donation.
The tournament was sponsored by a number of AA Credit Union vendor/partners, including presenting sponsors: CO-OP Network; Global Vision Systems, Inc.; Symitar; PSCU; and many other sponsors who participated at various sponsorship levels.
"It is always inspiring to see our associates/vendors participate each year in our tournament," said Tish Pruitt, Golf Tournament Director at AA Credit Union. "This year, we had the opportunity to open our tournament to new participants. The players had a phenomenal time and all were excited knowing that the donations were going to our two local Children's Miracle Network Hospitals. It wouldn't be possible without the help of our associates/vendors and employees."
Credit unions hold fast to their motto of "People Helping People" and this philosophy blossoms with the industry's support of Children's Miracle Network Hospitals. Credit unions, fund-raising under the Credit Unions for Kids brand, have partnered with Children's Miracle Network Hospitals since 1996 and have generated more than $100 million in contributions. In 2011, credit unions were third behind only Wal-Mart and Costco in corporate partner annual giving. The funds raised by the credit union community help fund new facilities, equipment, research, patient services and health education programs benefiting 17 million children annually.
The donation from the golf tournament includes a CO-OP Financial Services Miracle Match of $10,000. The Miracle Match program is a $1 million matching funds program which aims to match contributions at the local level, expanding the contributions raised by credit unions to stimulate even greater giving for Children's Miracle Network Hospitals.
"Cook Children's has made a promise to improve the health of every child in our community through the prevention and treatment of illness, disease and injury. Community partners like AA Credit Union are essential in helping us provide world-class care to our patients and their families," said Grant Harris, Vice President of Cook Children's Health Foundation. "We appreciate their generous support in helping us fulfill our promise."
"We are exceptionally proud of our partners, our staff and everyone who produces our annual golf tournament for helping to contribute to such incredibly worthwhile organizations," said Angie Owens, AA Credit Union President and CEO. "It's heartening to know that 100 percent of every dollar raised through our golf tournament goes directly toward patient care at our two local Children's Miracle Network Hospitals."
About American Airlines Federal Credit Union
Founded in 1936, AA Credit Union now serves the present and retired employees of American Airlines, their family members and people who work in the air transportation industry. In its 76th year, AA Credit Union has more than 237,000 members nationwide and assets in excess of $5.5 billion. As a not-for-profit financial cooperative, AA Credit Union is committed first and foremost to enriching its member-owners' financial well-being through their participation in the products and services of the Credit Union. For more information, please visit www.AACreditUnion.org.
---