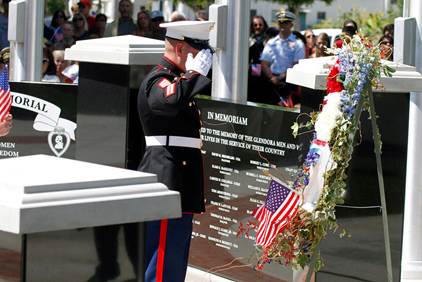 America's Christian Credit Union Remembers Fallen Service Members at Glendora Military Memorial
GLENDORA, CA (June 28, 2012) On Saturday, June 22, 2013, the city of Glendora celebrated the 39 local soldiers who gave the ultimate sacrifice while in service to this nation by unveiling the Glendora Military Memorial. America's Christian Credit Union sponsored one of the many plaques commemorating the soldier's who fought to protect this nation.
The families of the fallen heroes, various service men and women, city officials, and residents of Glendora attended the memorial. The ceremony included the presentation of the colors, a 21-gun salute, and speeches by top city officials including Glendora Mayor Joe Santoro.
Mendell L. Thompson, President and CEO of ACCU remarked, "This is a special day for us to remember those that have fought in service to our country. Thanks to our service men and women, we can enjoy our freedom. This monument serves as a reminder to all for their sacrifice. We are proud to be a part of this memorial and honor those who have served."
About America's Christian Credit Union
America's Christian CU provides effective banking solutions to individuals and ministries that empower them to reach their financial goals while expanding God's Kingdom. Founded in 1958 and currently managing close to $500 million in assets, ACCU serves the economic needs of its individual, family, ministry and business members. Every dollar entrusted to the credit union gets reinvested to build churches and fund ministries. For additional information, visit www.AmericasChristianCU.com.
---