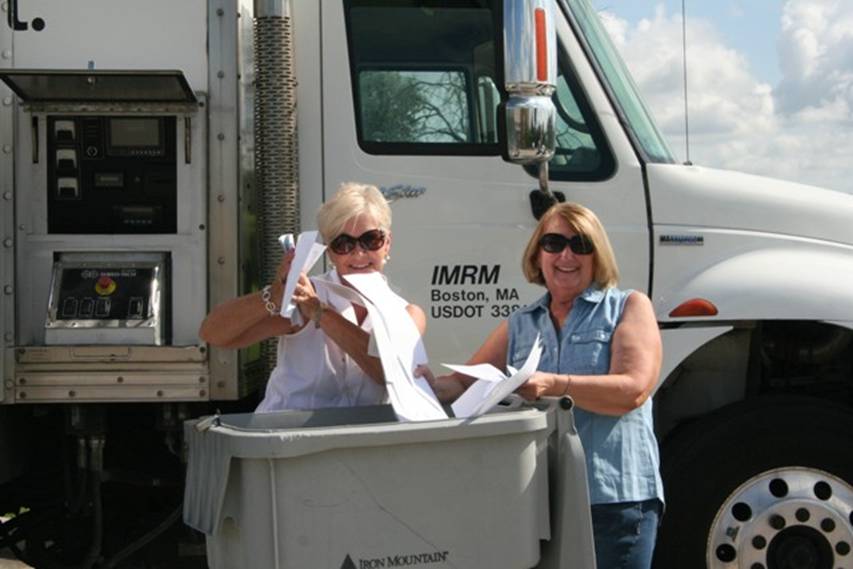 AMOCO Federal Credit Union Hosts Successful Shred Event
SANTA FE, TX (August 12, 2013) — On Saturday, August 3, 2013 cars were bumper to bumper as they lined up at AMOCO Federal Credit Union's Santa Fe branch− 4120 FM 1764, to shred their personal and valuable information.
AMOCO employees, Kevin Venable, Stacey Gonzalez, Clay Puckett and Daniel Bodley dedicated their time to help our members shred their vulnerable papers. Tommy Stunson, member of AMOCO and owner of Banzai Beach generously provided free sno-cones for the festivities. Even though it was hot, and the parking lot was packed, Saturday was filled with smiling faces.
A memorable moment took place as AMOCO retiree's Verna Leonhardt and Dianne Lockhart were lined up right behind each other to shred their own papers. It is heartwarming to AMOCO when we give our members and employees L.U.V.E and they show it right back!
AMOCO would like to thank our partner Iron Mountain Secure Shredding for coming out once again to help rid us of those annoying piles of papers. In as little as three hours we were able to fill the truck up to capacity, which means 10,000 pounds of paper was shredded! From the moment you are sent a letter in the mail you are susceptible to identity theft, don't be a target. If you missed this past shred day don't fret; another shred day will take place October 19th at our Galveston Branch ─ 6216 Broadway from 8-11a.m.
AMOCO Federal Credit Union is a member-owned financial organization. AMOCO's mission is: To Serve and Satisfy Our Members, and has done just that for more than 75 years. AMOCO strives to provide the best products and services available to its members by offering low loan rates and little to no fees.
---