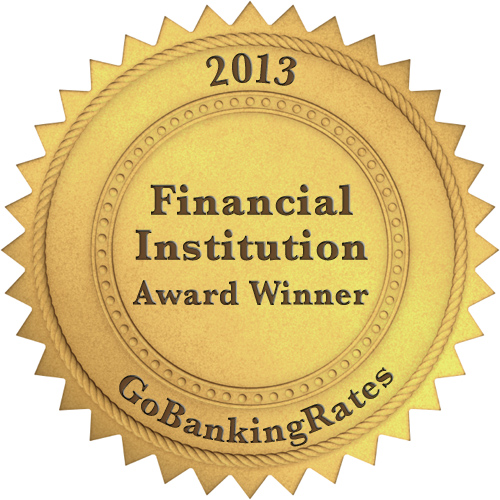 Announcing Intermountain Community Bank as Winner of the GoBankingRates.com Financial Institution Awards
The Web's top source of personal finance data, news, and tools, www.GoBankingRates.com, announces the winners of its Financial Institution Awards, established to recognize outstanding banks and credit unions making positive impacts on their communities. First place was awarded to Intermountain Community Bank, while America First Credit Union took second place.
EL SEGUNDO, CA (April 3, 2013) – GoBankingRates awarded First Place in its Financial Institution Awards to Intermountain Community Bank for exceeding its industry peers in all categories. America First Credit Union was chosen as runner-up.
Intermountain Community Bank excelled in the following three judging categories:
1. Community Involvement: Intermountain Community Bank's community involvement has been prolific. The bank contributed $153,641 and 2,598 volunteer hours to causes and organizations such as local food banks and animal shelters in 2012 alone.
2. Member Incentives/ Special Promotions: Intermountain Community Bank stood out from competition in this category as well, explaining, "Our 'incentive plan' is to make our customers individually and collectively successful. Our track record and customer feedback proves that we are giving our targeted customers exactly what they want and need."
3. Customer Service: Intermountain Community Bank told GoBankingRates, "ICB is proud to live our mission by listening to our customers at every stage of their lives to help them determine and meet their expressed financial goals as well as to offer steps to future solutions."
Finally, Intermountain Community Bank is a Better Business Bureau Integrity Counts! honoree, as well as a winner of the Idaho Governor's Brightest Star for Volunteerism Award.
America First Credit Union was named runner-up in the awards for its outstanding commitment to members.
The credit union participates in a number of community programs designed to improve financial literacy and overall well-being of nearby residents, including distributing more than $18,000 through the credit union's CAP program to seven partner organizations last year, as well as donating shoes for over 700 children throughout Utah and in Nevada, using more than $41,000 in donated funds.
In addition to participating in these volunteer efforts and many others, America First also boasts a Net Promoter Score of 83.2 percent, one of the highest rankings among national credit unions.
GoBankingRates CEO, Brett Rossman, stated, "Intermountain Community Bank and America First Credit Union have both been outstanding in their service to clients and members, as well as within their communities.  They have done a tremendous job of raising the bar for banks and credit unions."
Click here to learn more about the winning financial institutions.
About GoBankingRates
GoBankingRates.com is a national website dedicated to connecting readers with the best interest rates on financial services nationwide, as well as informative personal finance content, news and tools. GoBankingRates collects interest rate information from more than 4,000 U.S. banks and credit unions, making it the only online rates aggregator with the ability to provide the most comprehensive and authentic local interest rate information.
Additionally, GoBankingRates partners with a number of major media outlets such as Business Insider and US News & World Report to provide compelling and edifying personal finance content, and its expert editors have been featured and quoted on several premier finance websites like Yahoo! Finance, Forbes, The Street, Huffington Post and more.
GoBankingRates.com is a division of ConsumerTrack, Inc., an 8-year leader in online lead generation, performance-based marketing, and customer acquisition in the financial, insurance and credit sectors. The company's portfolio of 1500 websites includes financial sites GoBankingRates.com, GoInsuranceRates.com, and GoFreeCredit.com. These sites receive more than 2 million visits each month.
---