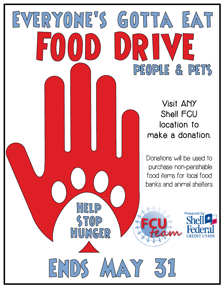 Annual "Everyone's Gotta Eat" food drive
DEER PARK, TX (May 8, 2015) — The Furthering Community Unity (FCU) Team powered by Shell Federal Credit Union is hosting their annual 'Everyone's Gotta Eat' food drive this May. The food drive helps fill the shelves of local food pantries for the summer months. Non-perishable food items for people and pets are being collected at all nine Shell Federal Credit Union locations throughout May. Stop by any Shell FCU location today to make a donation!
The FCU Team partners with local elementary schools for this annual event. Students are given a lunch sack to decorate with their family and return to their school with a food drive donation. Assisting with the food drive not only helps others, but teaches the students social responsibility. The FCU Team works with nine elementary schools and donates to 18 food pantries and animal shelters.
The FCU Team powered by Shell FCU was created to provide opportunities for giving back in our communities and teaching the value of social responsibility in a fun team setting. To learn more about the FCU Team please visit www.govolunteertoday.org or contact Amber Corossan at amber.corossan@shellfcu.org.
Committed to its communities, Shell Federal Credit Union has improved the lives of thousands through service excellence, community outreach and lasting financial solutions for all stages in life since 1937. Anyone who lives, works, worships or attends school in Harris County can bank with Shell FCU. For more information, visit www.shellfcu.org.
---