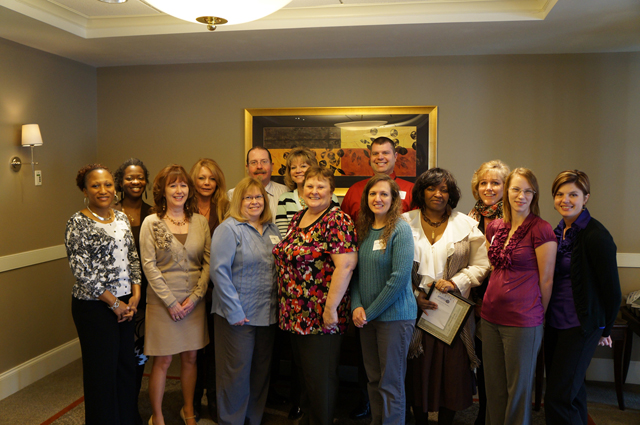 APG Federal Credit Union Honors 41 Employees with Service Awards
ABERDEEN, MD (February 8, 2013) – APG Federal Credit Union (APGFCU) honored 41 employees for their service to the credit union with a Service Awards ceremony at the Bulle Rock Clubhouse in Havre de Grace, Maryland.
While honorees enjoyed a breakfast buffet, Executive Vice President William Schultheis and Senior Vice President Genene LaCour recognized employees who celebrated milestone anniversaries at the credit union in 2012.
Honorees include:
35 Year Award
Nancy Hill
25 Year Award
Sharon Gustafson
Kimberly Hadry
Susan McDonald
20 Year Award
Beth Bayer
Joelle Hash
Carol McBrien
15 Year Award
Alicia Figueroa
Claudia Scarborough
10 Year Award
Susan Baroch
Gail Billings
Pamela Cassell
Roslyn Copeland
Monica Dilworth
Jim Hall
Sharon Hudler
Rhonda Kimble
Dana Kraemer
Kelly Martin
Patrick McKinney
Marilyn Rawls
Crystal Ross
Brenda Soellner

5 Year Award
Megan Barnes
Erica Bishop
Deborah Brandt
Jannell Bryson
Michele Bush
Amanda Donnelly
Diana Enos
Michael German
Dennis Hurley
Amy Kessell
Erica Lake
Damon Natt
Kathleen Russell
Jennifer Schmidt
Danielle Schrader
Janice Setlock
Theresa Stine
Belinda Svec
Every year, APGFCU recognizes and rewards employees for their dedication to the credit union and for the outstanding service they provide members.  APGFCU has been honoring employees who celebrate milestone anniversaries with Service Awards since 1987.
As one of the largest employers in Harford County, APGFCU has 290 employees, 68 percent of whom live in Harford County and 17 percent in Cecil County.  APGFCU is committed to building strong families for a stronger community with 11 branches in Harford and Cecil counties.  Membership is free and open to everyone who lives, works, worships, volunteers, or attends school in Harford or Cecil County.  For more information, call 410-272-4000 or visit APGFCU.com.
---