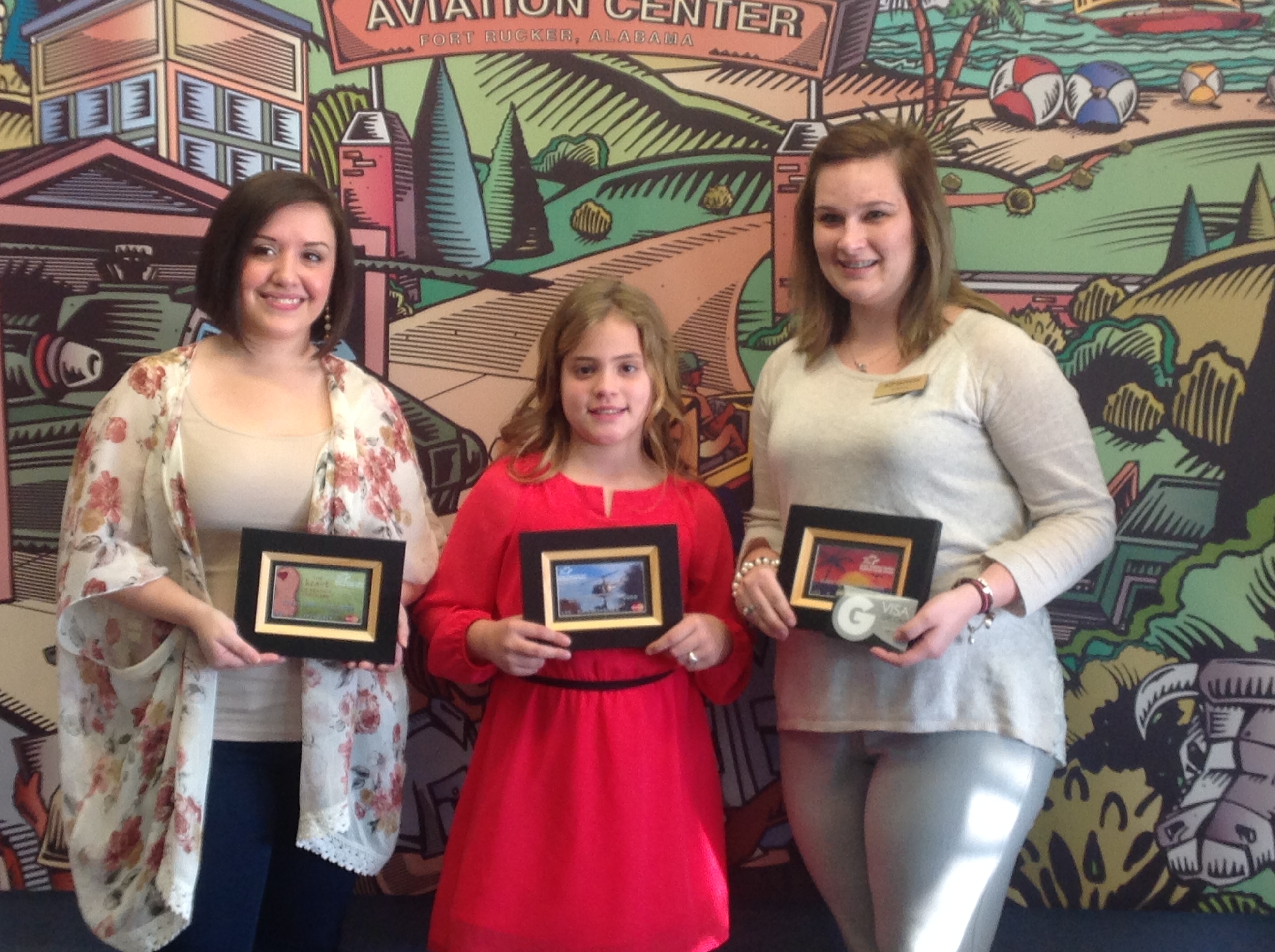 Army Aviation Center Federal Credit Union announces Debit Card Design Contest winners
DALEVILLE, AL (February 19, 2015) — Army Aviation Center Federal Credit Union (AACFCU) is proud to announce Kelli-Lyn Dooley of Enterprise as the grand prize winner of the AACFCU Debit Card Design Contest. Dooley received a $500 Visa gift card from AACFCU as an award.
Due to the overwhelming number of votes received, AACFCU also announced two additional winners in the contest. Traci Kimble of Dothan was awarded first place in the contest, and Ashlynn Wallace of Enterprise was awarded second place in the contest. Both winners also received Visa gift cards as prizes.
AACFCU received 18 design entries into the contest where five finalists were chosen from the initial group. After the finalists were announced, voting was opened to the public to choose a favorite design. More than 4,000 votes were tallied to determine the winning designs. The new debit card designs will be unveiled in 2015.
AACFCU offers members a debit card with their AACFCU checking accounts. A debit card is the convenient way to access funds in your checking account without writing a check. For more information on AACFCU products and services, visit www.aacfcu.com.
Pictured L-R: Traci Kimble; Ashlynn Wallace; Kelli-Lyn Dooley
About AACFCU:
Army Aviation Center Federal Credit Union was founded 48 years ago by seven soldiers at Fort Rucker, Ala. on the principles of the "Credit Union Movement." Today, AACFCU serves more than 120,000 members worldwide with 20 locations throughout Southeast Alabama, Florida's Emerald Coast and the Mobile Bay Area. For more information, visit www.aacfcu.com.
---