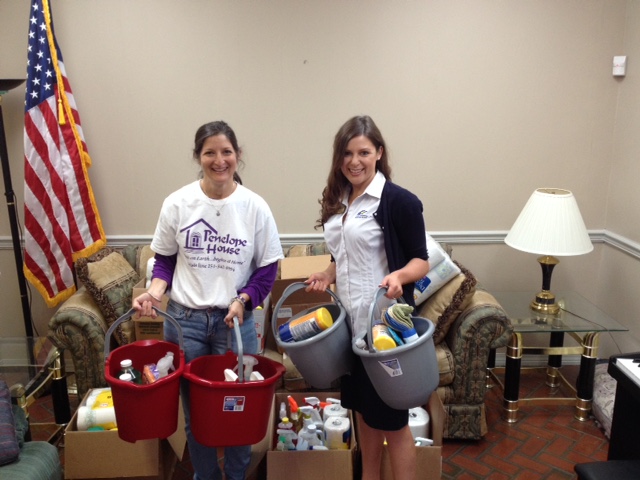 Army Aviation Center Federal Credit Union donates cleaning supplies to community organizations
DALEVILLE, AL (October 15, 2014) — Army Aviation Center Federal Credit Union (AACFCU) donated cleaning supplies to 10 organizations on behalf of its employees after a donation drive in August and September.
Because of the generosity of employees, AACFCU was able to donate to the following organizations:
Daleville Senior Center in Daleville, Ala.
Fort Rucker Wings Chapel in Fort Rucker, Ala.
Enterprise Retirement Center in Enterprise, Ala.
Southern Alabama Regional Council on Aging in Dothan, AL
Ozark-Dale County Humane Society in Ozark, Ala.
Pike County Salvation Army in Troy, Ala.
Penelope House in Mobile, Ala.
Habitat for Humanity in Dothan, Enterprise Troy and Mobile, Ala.
Each year, AACFCU organizes donation drives and fundraisers to support local communities.
Pictured L-R: Tori Ann Torrans, Penelope House director, and Kasie Irby, AACFCU business development officer. 
About AACFCU:
Army Aviation Center Federal Credit Union was founded 48 years ago by seven soldiers at Fort Rucker, Ala. on the principles of the "Credit Union Movement."  Today, AACFCU serves more than 120,000 members worldwide with 20 branches throughout Southeast Alabama, Florida's Emerald Coast and the Mobile Bay Area. For more information, visit www.aacfcu.com.
---