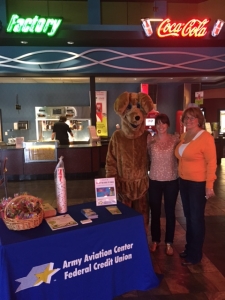 Army Aviation FCU treats locals to movie and snacks
SANTA ROSA, FL (April 6, 2015) — Army Aviation Center Federal Credit Union (AACFCU) surprised customers at the Carmike Grand Boulevard Cinema located near the Credit Union's branch on Mack Bayou Road by paying for their movie ticket and a snack on Saturday, March 28. Customers who attended the morning matinee showing of Home were greeted by Carmike Grand Boulevard staff letting them know their tickets and snack were paid for by AACFCU.
AACFCU representatives were also onsite for the event and had the opportunity to talk to many customers about the benefits of joining a credit union. AACFCU has one location in Santa Rosa Beach and one location in DeFuniak Springs. Partnering with the Carmike Grand Boulevard Cinema proved to be a great opportunity to advertise the Credit Union and its services as well as spread good cheer in the community.
For more information about AACFCU or to find its locations, visit www.aacfcu.com.
Pictures L to R: Cheryl Hodges, AACFCU business development officer; Karen McCarthy, AACFCU assistant vice president of Walton County operations.
About AACFCU:
Army Aviation Center Federal Credit Union was founded 48 years ago by seven soldiers at Fort Rucker, Ala. on the principles of the "Credit Union Movement." Today, AACFCU serves more than 120,000 members worldwide with 20 locations throughout Southeast Alabama, Florida's Emerald Coast and the Mobile Bay Area. For more information, visit www.aacfcu.com.
---