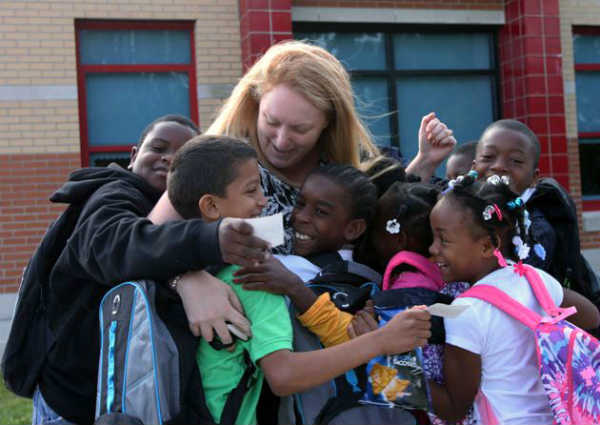 Backpack Blitz huge success with thanks to Channel 95.5, Operation: Kid Equip, and Affinity Foundation for Michigan kids
(September 27, 2013) — Monday, September 16th kicked off a busy week, with 16 schools set to be visited to surprise select teachers, and their students, with new backpacks filled with new school supplies. The students came from all different backgrounds, ages, and ethnicities, but one thing they had in common was that they were all struggling financially.
The contest was simple; teachers filled out an application through Mojo in the Mornings website or Operation: Kid Equips website. Information wanted were things like why their students deserved this special surprise, talking about their needs, and what they were doing in order to be successful in school and in life. Then they waited. Those chosen winners were not contacted at all. The winners and their students were surprised by credit union employees, the radio station, and OKE. The reactions were incredible, there was shock, laughter, jumping, and clapping.
"This is one of the most rewarding experiences for the credit union employees, said Matt Jenkins, VP of Marketing and Cooperative Services. When a student comes to you and thanks you because they do not yet have a backpack or supplies, you know you have done your part!"
In their essays, many teachers expressed feelings of sadness because their students are going without what most of us think of as essential school supplies. Also, teachers do what they can to help their students, even purchasing supplies with their own money. That's where we came in. Members from all branches, and credit union employees alike helped gather these backpacks and supplies either with monetary donations, or by donating the actual backpacks and supplies.
When children have their own supplies like backpacks, crayons, paper, and pencils, they become more confident and willing to participate in more school activities. And that is exactly our goal, to help make Michigan kids into confident successful people.
The Affinity Foundation for Michigan Kids (AFMK), a 501(c)(3) non-profit foundation was created in 2010 to provide educational and personal growth opportunities to Michigan kids and young adults up to age 25. AFMK rallies member and community support by collecting financial donations and school supplies at all six Southeast Michigan Affinity Group Credit Union branches. You can support our effort during your next trip to one of our branches by bringing in school supplies or making a charitable contribution.
Affinity Group Credit Union is a member owned not-for-profit financial cooperative serving members of Crestwood Community, Kensington Valley Community, Municipal & Health Services, OKE Financial, St. Cletus, and WySouth. With a vision of Changing Lives, One Member at a Time, AGCU serves anyone who lives, works, worships, attends school, or owns a business in Wayne, Oakland, Macomb, Monroe and Livingston Counties. Visit: www.myagcu.org for additional information.
---