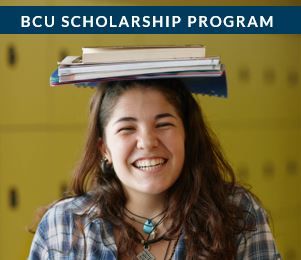 BCU is giving away up to 20 scholarships to college bound high school seniors
CHICAGO, IL (April 27, 2015) — As part of an ongoing commitment to expanding educational opportunities for the members they serve, BCU ($2.1 billion) is partnering with Scholarship America to provide up to 20 scholarships in the amount of $1,500 each to college bound high school seniors.
BCU established the scholarship program to assist members who are high school seniors and plan to continue their education in college. Scholarships are offered each year for full-time study at an accredited institution of the student´s choice. Selection criteria includes: academics, participation in school/community activities, and demonstration of core values, with eligible members required to write a short essay on what financial security and well-being mean to them, in keeping with the Credit Union's mission.
In addition to financial assistance, BCU is also providing resources to help parents and students to prepare for college as part of their Life. Money. You.™ financial education program. Specific resources include helpful information about filling out the FAFSA form, preparing for paying and staying in college, and answers to frequently asked student loan and grant questions.
"At BCU, we strive to lay the groundwork for our members to achieve success—whatever that looks like to them," said BCU Director of Communications & Brand Strategy, Jill Sammons, who serves on the Credit Union's Charitable Giving Committee. "Investing in young people through the BCU Scholarship Program is just one of the many ways we achieve our goal to positively impact the communities we serve."
Scholarship applications are accepted April 15 – June 1, 2015. Recipients will be notified in July 2015.
For more information, please visit BCU.org.
About Us:
BCU is a $2.1 billion full-service, not-for-profit financial institution providing SEG and community banking to over 200,000 members in all 50 states and Puerto Rico. The fastest growing credit union in the last 30 years, BCU is regarded as having set new standards for bringing together technology and member service in the fast-changing world of financial services. As an organization, BCU is committed to improving members' financial well-being through the brand promise, We've Got Your Back. Membership is open to several prestigious employers around the country and those living or working in Chicago-area communities.
---