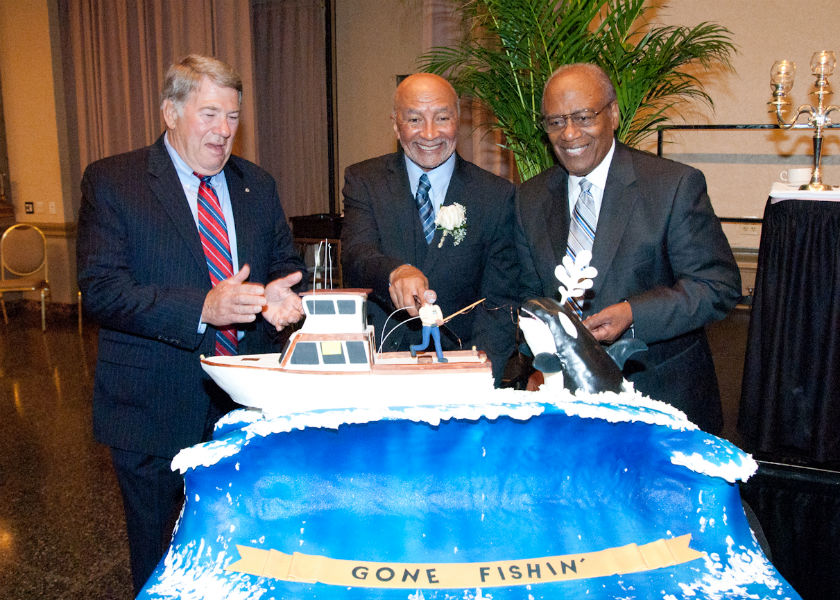 Bert J. Hash Jr., CEO of MECU of Baltimore retires
BALTIMORE, MD (June 24, 2014) — After a 17 year career as President and CEO of MECU of Baltimore Inc., Bert J. Hash Jr. is ready to retire and begin the next phase of his life.
During Hash's tenure MECU grew from one branch to 11 branches around the Baltimore metropolitan area, assets grew from $400 million to over $1.3 billion and membership grew to over 106,000.  After spearheading that kind of growth,  Hash's colleagues and friends would not let him go quietly.
On Friday, June 13, over 600 people gathered at Martin's West to wish Bert Hash the best of luck in his retirement. Well wishers included some of Baltimore's best known politicians including Congressman Elijah Cummings and Baltimore Mayor Stephanie Rawlings-Blake.  Members of the African American Credit Union Coalition, which Hash helped form, came from across the country. Luminaries from Morgan State University shared with the other well wishers Hash's commitment to the university as an alumnus and as a board member for the business school.
Members of numerous community groups joined together to thank Hash for the many partnerships developed with MECU under his leadership. This outreach to the community has become a hallmark of the credit union which has received numerous awards for its programs.
The MECU Board of Directors, represented by Chairman Herman Williams Jr., thanked Hash for the strong partnership they developed which let them work as a strong, dynamic team to develop the growth of MECU for the benefit of the members.
"This has been the most rewarding part of my career," said Hash, "working with the wonderful team at MECU to develop an exceptional financial institution to serve the people of the community I love."
Photo caption: Former MECU COO Andy Pataki and Board Chairman Herman Williams Jr. watch Bert Hash cut a special cake celebrating his retirement. 
MECU is a member-owned not-for-profit financial cooperative committed to providing its members with high quality financial services, and outstanding service to our communities, through sound management and innovation for over 75 years.  It represents over 106,000 members, with assets of $1.4 billion.
---