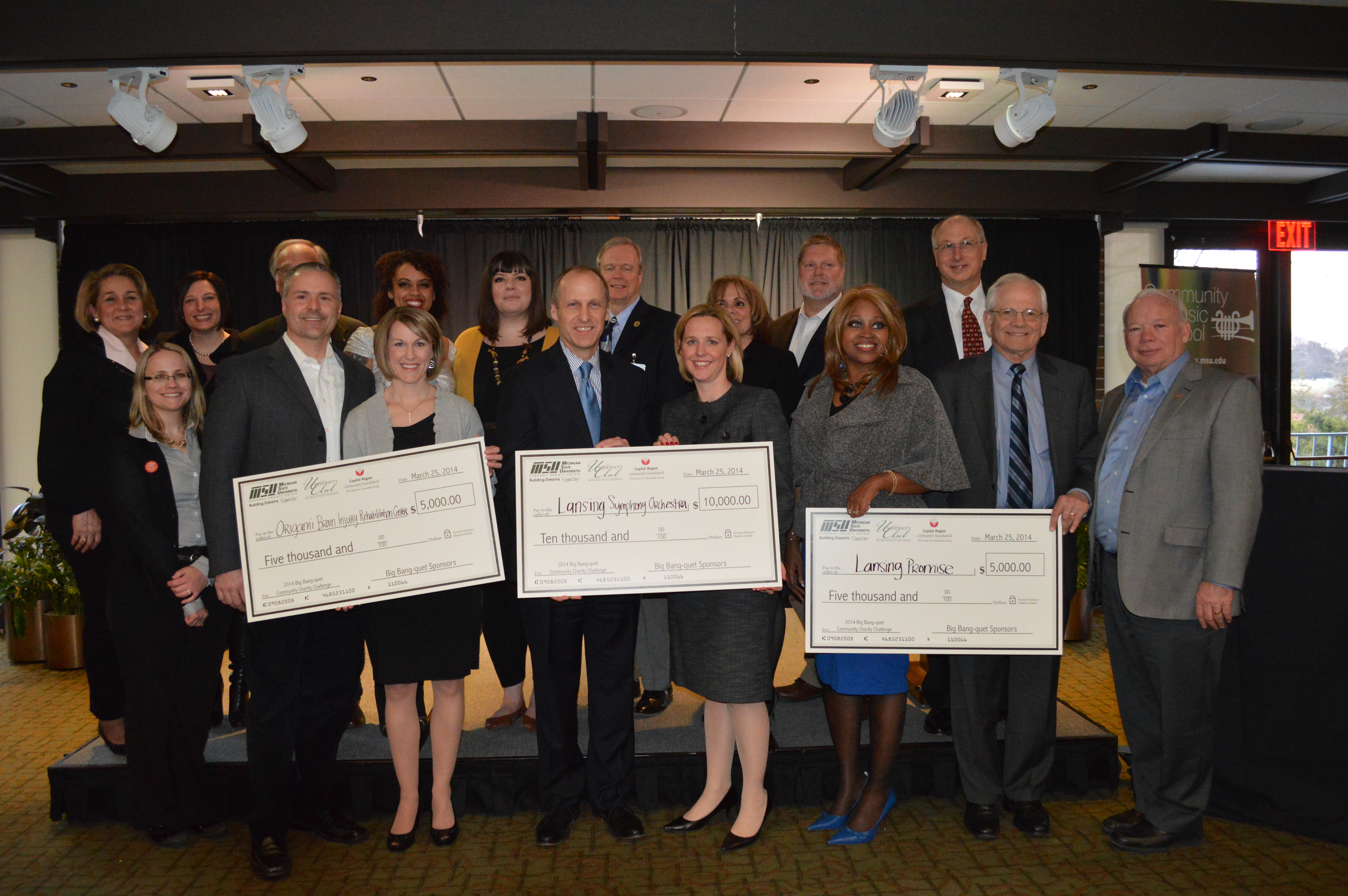 Big Bang-quet Community Charity Challenge a success, local charities win big
EAST LANSING, MI (March 28, 2014)  — On March 25, 2014, MSU Federal Credit Union joined the University Club of MSU and the Capital Region Community Foundation in support of local organizations by sponsoring the Big Bang-quet Community Charity Challenge. Community members spent the evening at the University Club to place their final votes, meet local charities, and celebrate the conclusion of the challenge by honoring its winners.
The goal of the Big Bang-quet was to bring awareness to local organizations and charities and give community members an opportunity to show their support by voting for their favorite cause. The event raised more than $80,000 for 24 local charities. The big winners of the evening are as follows:
Grand Prize: The Lansing Symphony Orchestra
The Lansing Symphony Orchestra has served the community through music and music education since 1929. The organization provides opportunities for area youth to develop their skills firsthand through music education programming.
Second Place: Lansing Promise
Lansing Promise is a scholarship program designed to transform the lives of students, families, and the Lansing community. The Promise is an award offered to graduates of public and private schools within the Lansing School District boundaries that provides the financial assistance necessary to obtain a two-year degree or its equivalent at an eligible school.
Most Voters: Origami Brain Injury Rehabilitation Center
Origami is a nonprofit organization offering a continuum of care for adults who have sustained a traumatic brain injury. The organization is partnered with Michigan State University's College of Osteopathic Medicine and Peckham, Inc.
"At MSUFCU, we feel it is our responsibility to remain connected with the community and the organizations devoted to making it a better place" said Patrick McPharlin, MSUFCU's President and Chief Executive Officer. "We are honored to support these groups in achieving their goals, and in working together, we strive to make a big impact."
MSU Federal Credit Union, the world's largest university-based credit union, offers a full range of personal – and business-related financial services to Michigan State University and Oakland University faculty, staff, students, alumni association members, and their families worldwide in addition to a variety of select employee groups. Founded in 1937 by a few MSU professors and employees, MSUFCU now has thirteen branches, over 183,000 members, more than $2.6 billion in assets, and over 550 employees.
---