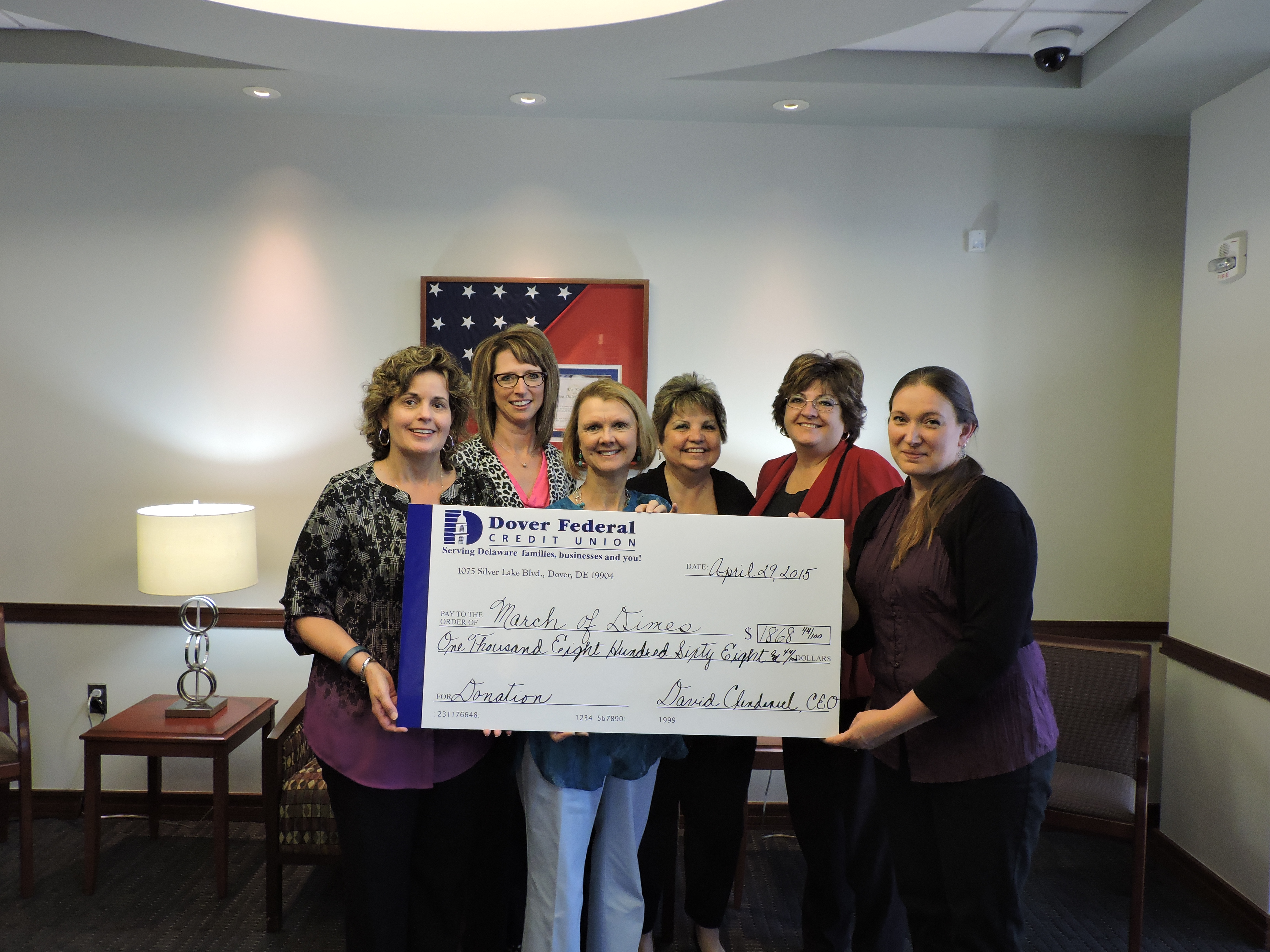 Blue Jeans Friday benefits babies well-being
DOVER, DE (May 11, 2015) — During the month of March, Dover Federal participated in the March of Dimes, Blue Jeans for Babies collecting a total of $1868.44 to benefit the health and well-being of babies and their mothers. The funds raised were a joint collaboration between member donations in addition to a company matching fund program, which matched dollar for dollar the funds employees donated to be able to wear jeans on Fridays.
When asked about the Credit Union's participation, David Clendaniel, Dover Federal's President and CEO, said. "We couldn't be more pleased by this opportunity to contribute to well-being of babies and their mothers. We are proud of our employees' continued effort and support for our community."
The March of Dimes lone concern has always been to give children a healthy start, and focus on birth defects. Today they are simultaneously addressing the crisis of premature births. As an organization, they have developed vaccines that led to cures and protection, funded research that won awards and saved lives, educated women about how to have a healthy full-term pregnancy and developed breakthroughs on many fronts that are now standards of care and compassion. Whatever they believe to be an obstacle to having a stronger, healthier baby is where they focus their efforts.
First chartered in 1958, Dover Federal Credit Union is the largest credit union in the state of Delaware, with a membership of over 40,000. Dover Federal has offices in Smyrna, New Castle, Milford, and Dover, including one at Dover Air Force Base. Dover Federal proudly serves the military and Delaware families, businesses and you. To learn more about Dover Federal and their initiative with charitable organizations within the state, visit www.doverfcu.com or calling 302.678.8000.
Pictured left to right: {Dover Federal SVP/CFO Belinda Burke, Marketing Mgr. Deb Jewell, Dir. Of Business Dev. Bettie Campbell, Project Mgr. Anne Donahue, Operations Mgr. Karen King, March of Dimes Community Dir. Katharine Weldon}
---