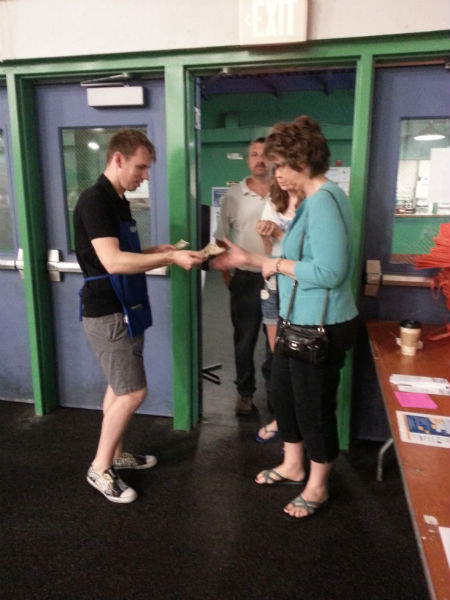 Book Nook Bonanza 2014 deemed a success!
YORK, PA (July 1, 2014) — On June 20-22, 2014, First Capital Federal Credit Union staff volunteered their time at the York Hospital Auxiliary's Book Nook Bonanza 2014.  This year's Book Nook offered more than 250,000 books, as well as VHS, DVDs, and artwork for low prices.  In all, the three-day sale, held at the York City Ice Arena, raised more than $50,000.00.  The York Hospital Auxiliary gives many small grants within WellSpan to assist with programs and equipment. This year's proceeds will be used for the Auxiliary Small Grant Program.
First Capital Federal Credit Union is a $160 million asset-size, credit union with nearly 18,000 members based in York, PA.  Founded in 1954 as S. Morgan Smith Credit Union, First Capital has merged and grown, and continues to work closely with more than 400 companies and organizations throughout York County and across the country.
Photo: Jeremy Holtzapple, First Capital FCU Member Service Officer, collects the entrance fee for Book Nook Bonanza attendees.
---