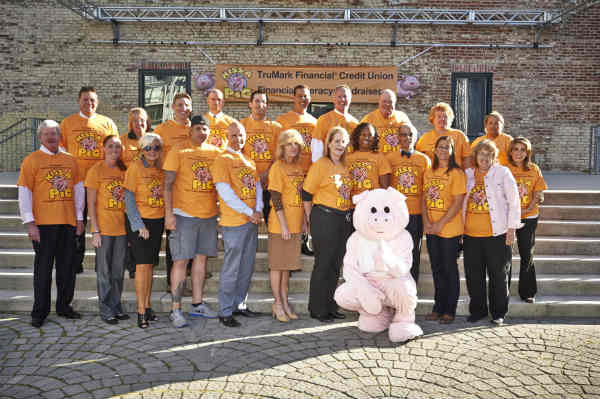 Business and community leaders, teachers and professionals go "hog wild" at Third Annual Kiss-a-Pig Financial Literacy Fundraiser
Event raises more than $40,000 to promote financial literacy
TREVOSE, PA (October 2, 2013) — Twenty-eight community leaders, professionals, and teachers went "hog wild" and kissed a pig at TruMark Financial's Third Annual Kiss-a-Pig Financial Literacy Fundraiser. Monies raised will support area schools in their efforts to teach personal finance. Over the past three months, participants secured sponsors and donations to raise more than $40,000 for the opportunity to kiss a pig in support of financial literacy.
Fundraising efforts culminated with a "pig kissing" event on Wednesday, Sept. 25, at the Piazza at Schmidt's, 1015 N. 2nd Street, Philadelphia, where family, friends, students and colleagues of the participants cheered them on as they puckered up with a pot-bellied pig named Bubbles. Mike Jerrick, co-anchor Good Day, FOX 29 News, served as emcee for the event with guest appearances from Kacie McDonnell, Good Day, FOX 29 News, and John DeBella, WMGK FM, who presented a check for $1,000 on behalf of Greater Media Philadelphia.
Participants in the Third Annual TruMark Financial Kiss-a-Pig Financial Literacy Fundraiser included:
Dennis Best, William Tennent High School
Gregory Bruce, La Salle University
Tobi Bruhn and Matt Cipriano, Bucks County Community College
Peter Buchsbaum, WBCB Real Estate Reality Radio
Dr. Sue Cornbluth, Temple University
Anthony Devlin, Maple Point Middle School
Darice Eppinger, Target Media
Jason Friedman, Colonial Nissan
Kelly McGrogan, Bayard Taylor School
Cristina V. Gutierrez, McKinley Elementary School
Zsuzsa Hasel, Middle Bucks Institute of Technology
Tracey Jones, Tremendous Life Books
Brian Joseph, Enterprise Car Sales
Bruer Kershner, Kershner Office Furniture
John LaSalle, Universal Credit Services
Virginia Flick Lederman, Furniture Sir-Plus
Eileen Friend, St. Jerome School
John McDonald, KSM Architects
MarySheila McDonald, La Salle University
Jackie Metz, Horatio B. Hackett School
Dr. Cheryl Pope, Asociación Puertorriqueños en Marcha
Alicia Rodriguez, TruMark Financial
Trudy Sanabor, TruMark Financial
Tracy Schneider, TruMark Financial
Mike Smith, Philadelphia Police Department
Patricia Torpey, Our Lady of Calvary
Sarah Yeager, TruMark Financial
Last year TruMark Financial raised $36,000 and awarded $5,800 grants to six schools to use for personal finance resources. This year's fundraising goal has been surpassed with more than $40,000 in donations received to date. The top fundraiser this year was Peter Buchsbaum, WBCB Real Estate Reality Radio, with more than $3,000 in donations. "This fundraiser meant the world to me on two levels. First, it helped schools struggling with budget issues teach children about money so that our future will be able to avoid budget shortfalls. Secondly, it
was sponsored by my credit union that cares about financial literacy as much as I do,"
said Buchsbaum.
As a result of participants' efforts, eight area schools will receive grants of $5,000 each to provide textbooks, workbooks, and other resources to teach the fundamentals of saving, borrowing, and investing. With the benefit of personal finance instruction, these students will be able to make informed financial decisions.
About TruMark Financial
TruMark Financial is one of the strongest, most progressive credit unions in the nation, offering a full range of banking, investing, and insurance services to more than 96,000 members in Southeastern Pa.
Founded in 1939, TruMark Financial is headquartered in Trevose, Pa., and has approximately $1.4 billion in assets through its 15 branches, Call Center, and a suite of innovative online services. To learn more about TruMark Financial, visit www.trumarkonline.org or call
1-877-TRUMARK. Connect with TruMark Financial at www.facebook.com/trumarkonline and twitter.com/trumarkonline.
---