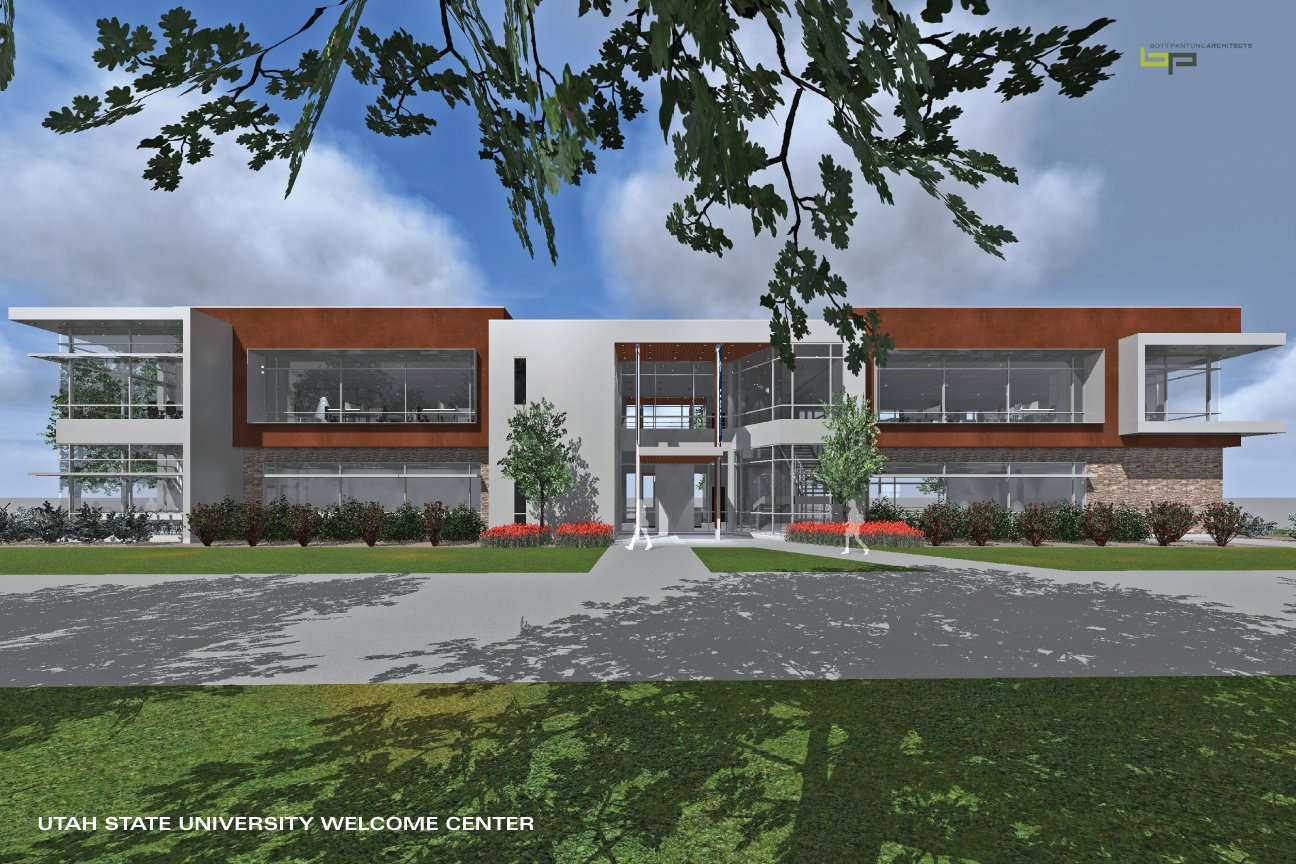 Campus Welcome Center will include USU Credit Union branch
LOGAN, UT (April 14, 2015) — USU Credit Union and the USU Alumni Association jointly announced a new Welcome Center facility during a reception held on Wednesday, April 8th. The 13,000-square foot Welcome Center, which will include a USU Credit Union branch on the first floor, will be located at 700 North 900 East on the Utah State University campus in Logan. About 100 people attended the celebratory event at the Taggart Student Center Sunburst Lounge.
Among those in attendance at the announcement were Utah State University President Stan Albrecht, Executive Vice President and Provost Noelle Cockett, and Vice President of Advancement & Commercialization, Robert Behunin. Guests from Goldenwest and USU Credit Unions included Chairman Bill Hart, President/CEO Kerry Wahlen, and USU Credit Union Regional President David Butterfield, along with several other credit union Board members, officers, vice presidents, and managers. Since a merger in 2013, USU Credit Union has operated as a division of Goldenwest.
"This announcement marks one of the most significant events in the history of USU Credit Union," stated David Butterfield, USU Credit Union Regional President. "As we return to our roots on campus, we are not only honoring the founders of the credit union but we are also fulfilling our charter to serve Utah State University employees, students and alumni."
Butterfield, who served as USU student body president and was recently inducted into the Alumni Association's Hall of Honor, thanked the University's administration for their vision in the advancement of campus infrastructure and programs.
Goldenwest President/CEO Kerry Wahlen spoke of his personal connection with Utah State University.
"I will always be grateful to USU for admitting me to their MBA program many years ago," acknowledged Wahlen. "The education that I received from Utah State University has had a profound impact on my life, including my current role with the credit union."
Wahlen spoke of the alliance between the Credit Union and the University, and how the two entities have collaborated to benefit students, staff and alumni.
"There has been a remarkable spirit of teamwork as Credit Union leaders and the USU administration have worked together to design a Welcome Center that will  greatly enhance the on-campus experience for visitors to Utah State University," added Wahlen.
Both President Albrecht and Vice President Robert Behunin spoke at the reception, giving their thanks and support for USU Credit Union's role in establishing a Welcome Center on campus.
The first floor of the new facility will include the Welcome Center, Alumni Relations, and a USU Credit Union branch. The Welcome Center will be a figurative "front door" for greeting visitors and providing information about the Utah State University campus. The second floor will include office space and meeting rooms for USU Advancement and Commercialization.
The proposal for the two-story facility and ground lease was presented to and approved by the Utah State University Board of Trustees on March 6, 2015. The Board of Regents granted their approval for the project on March 27, 2015.
Bott Pantone Architects has been selected to design the building, and Wadman Corporation won the bid to build the new facility. Preparing the site for construction should begin in about 30 days.
---