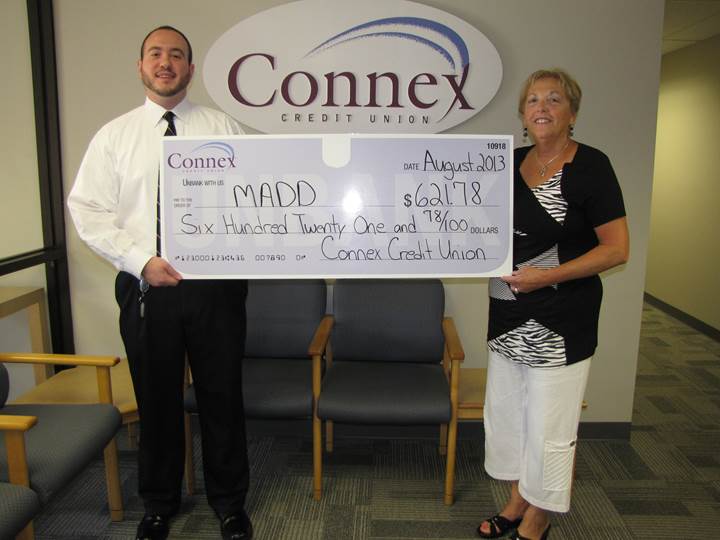 Cashing in Coins for Change: Connex Credit Union Donates to Mothers Against Drunk Driving (MADD) Connecticut
GUILFORD, CT (August 19, 2013) — As a part of its philanthropic giving program, Connex Credit Union recently donated $621.78 to the Connecticut division of Mothers Against Drunk Driving (MADD). The donated funds were raised from the fees collected by Connex's coin-cashing machine in Guilford. Connex charges a five percent fee to members and a seven percent fee to non-members and donates the fees collected to caring organizations in the community.
"Thank you Connex for making the coin drive so successful," said Paula D'Agostino, Program Director for MADD. "The funds that were raised will be used to further MADD's mission to stop drunk driving, support victims of this violent crime and prevent underage drinking."
Founded by a mother who lost her daughter by a drunk driver in a crash, MADD is the nation's largest nonprofit organization working to protect families from drunk driving and underage drinking. MADD also supports drunk driving victims and survivors at no charge.
If you are a local non-profit or charitable organization interested in participating in the "Coins for Change" program, please contact Chris Whalen at Connex Credit Union, at 203-603-5787 or cwhalen@connexcu.org.
About Connex Credit Union
As the Unbank, Connex Credit Union is one of Connecticut's largest credit unions serving more than 47,000 members at 7 branches throughout greater New Haven. Headquartered in North Haven, Connecticut, Connex is a full-service member-owned credit union that offers members a full-range of financial services and products, including savings and loans, Unbank Checking, Smart Score credit score range, free online and mobile banking and more. Membership is open to anyone who lives, works, attends school or worships in New Haven, Hartford or Middlesex Counties. It's time to Unbank! For more information please call 1-800-CR-UNION or visit www.connexcu.org.
---