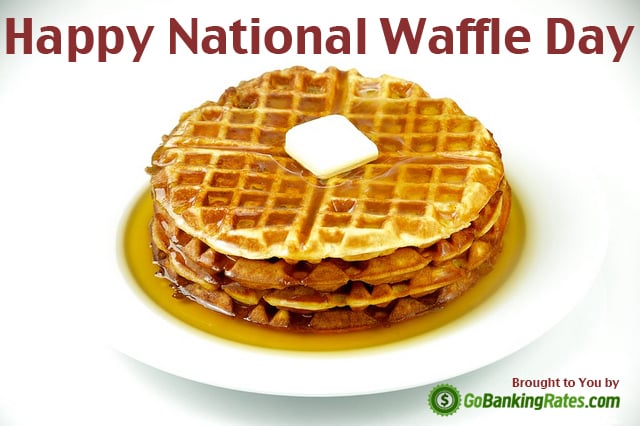 Celebrate National Waffle Day With Delicious Deals and Coupons
GoBankingRates.com, in partnership with BeFrugal.com, tracks down various discounts, bargains and giveaways from restaurants and retailers commemorating National Waffle Day.
EL SEGUNDO, CA (August 23, 2013) — Though National Waffle Day was created to celebrate the invention of the waffle iron in 1869, it's also a chance for consumers to save money on one of their favorite breakfast meals. GoBankingRates.com and BeFrugal.com recently teamed up to track down of the best sales and deals consumers can take advantage of during National Waffle Day Aug. 24.
"The average American family spends almost $6,500 on food a year, so getting a free breakfast or a good discount on cooking supplies can go a long way," said Amanda Garcia, personal finance expert with GoBankingRates.com. "With well-known chain restaurants offering deals on National Waffle Day, it's easy for consumers to save on a meal and enjoy a free waffle that day."
Below is a preview of some the National Waffle Day deals:
Restaurant Deals:
Bob Evans: Enjoy a buy-one, get-one-free breakfast entrée deal with a coupon and purchase of two drinks. All waffle entrées included.
Denny's: Get 20 percent off your next meal with a valid coupon and waffle entrée purchase.
Waffle House: Receive a waffle at no cost Monday-Friday until Sept. 6 with a coupon.
Waffle Maker and Mix Discounts:
Crate & Barrel: Take $10 off a Cuisinart waffle maker and waffle cookbook.
JC Penney: Receive up to 45 percent off select waffle makers.
Walmart: Pay as low as $2.38 for waffle mix and get waffle cookbooks for 40 percent off.
See the full list of deals and discounted supplies offered on National Waffle Day by visiting GoBankingRates.com at http://bit.ly/14mBT21.
Other deals were found from La Quinta Inn & Suites, Carrows, Target, QVC, Macy's, and Gettington.
For questions about this release or to speak with Amanda Garcia, please use the contact information below.
About GoBankingRates.com
GoBankingRates.com is a personal finance website that connects consumers with the best interest rates nationwide. It collects rates on savings, CDs and checking accounts, as well as auto loans, from more than 4,000 financial institutions. GoBankingRates.com's editors have been featured on several top media outlets, including US News, Yahoo! Finance, Forbes, The Street, LA Times, Huffington Post and more.
About BeFrugal.com
BeFrugal.com features cash back, online and printable restaurant coupons, weekly ads, deals and bargains, as well as Web-based tools to help consumers save time and money. BeFrugal.com launched in 2009 and is now used by more than 1,000,000 shoppers every month.
---