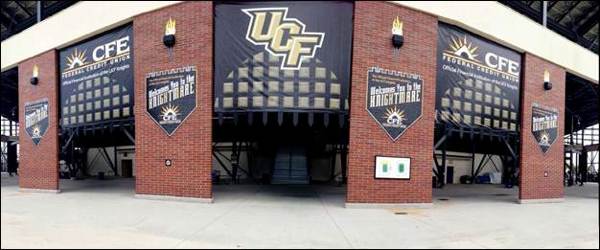 CFE debuts new medieval décor at UCF football stadium
Lake Mary, Fla. (September 27, 2013) – CFE Federal Credit Union will help the University of Central Florida (UCF) Knights defend their castle at Bright House Stadium, thanks to new graphics that portray heraldic shields suspended from battle axes, portcullis gates, and flaming torches. The décor, which debuts at the sold out South Carolina vs. UCF football game on Sept. 28, is a unique product of the partnership between CFE and UCF.
In 2011, CFE and UCF Federal Credit Union merged to build a better and stronger financial institution. In May of this year, CFE attained the naming rights for CFE Arena on the UCF campus and became the Official Financial Institution of the UCF Knights.
CFE and UCF have a shared heritage of service to education in Central Florida. With more branches and ATMs on the UCF campus than any other financial institution, CFE is committed to providing the best services and products to the UCF community. CFE is working to educate UCF students about how to manage their finances for a better future. Along with offering free checking and savings accounts to students, CFE has partnered with the UCF Student Government Association to host financial literacy presentations to educate the second largest student body in the nation.
About CFE Federal Credit Union
CFE Federal Credit Union was founded in 1937 by 23 educators. The credit union currently serves 127,000 members and has more than $1.4 billion in total assets. Membership eligibility includes anyone who lives, works, attends school, volunteers, or worships in Orange, Osceola, Lake, or Seminole County. Qualified businesses and other legal entities may also join. The credit union serves its members at 18 full-service branches, 5 high school branches, 38 ATM locations and 24-hour Internet access. CFE is recognized as a Top 25 Company for Working Families by the Orlando Sentinel.
---