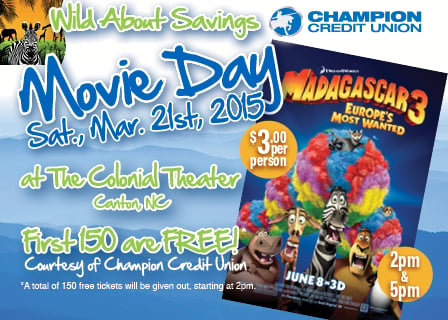 Champion Credit Union kicks off #CUYouthMonth with a movie!
CANTON, NC (March 19, 2015) — Champion Credit Union is sponsoring the Saturday afternoon movie, Madagascar 3, at the Colonial Theater in Canton this Saturday, March 21 for their Wild About Savings kickoff.
April is National Credit Union Youth Month. Through their partnership with the Town of Canton and the Colonial Theater, Champion Credit Union is kicking off an exciting month of activities with the movie. "We love being out in our community," says Pam Reece, branch manager of the Canton office. "This is a great way to kick off our youth month and provide a fun afternoon activity for everyone." Tickets are $3 per person, but the first 150 people are free, courtesy of Champion Credit Union.
National Credit Union Youth Month is an opportunity for credit unions to engage young members and potential members in the importance of saving. Champion Credit Union hopes that through their variety of events, children will feel empowered to learn about finances and see the difference that credit unions can make in their lives and in their community.
For more information on #CUYouthMonth and a complete calendar of events, visit www.ChampionCU.com.
About Champion Credit Union:
Local since 1932, Champion Credit Union is a community-chartered financial cooperative that serves the residents of Haywood, Buncombe, Henderson, Graham, Swain, Jackson, Transylvania, Macon, and Madison Counties.
Champion Credit Union, with more than 24,000 members and over $190 million in assets, operates from offices in Haywood and Buncombe Counties in Western North Carolina. For more information on Champion Credit Union, visit www.championcu.com.
---